Tag Archives:
Cardboard Galaxy
Cardboard Galaxy has an all new modular Bespin Cloud City hallway panel set for 6 inch scale figures. Price in the US is $40 for the whole set, you can also get individual walls for $8 each. If you are interested in buying the walls for your diorama or toy photography, please head over to Cardboard Galaxy's Facebook page where you can find lots of more photos and all the info you need to pre-order! Also, JTA regular Matthew Cohen shot all the promotional photos, which show you how great these walls can look. The image below is for illustrative purposes, to show you an overview of the set, to see some beauty shots head over to the Facebook page.
Are you disappointed in the HasLab announcement? Don't fret! Cardboard Galaxy has created something you WILL want for your Star Wars collection! Coming soon! Docking Bay 94!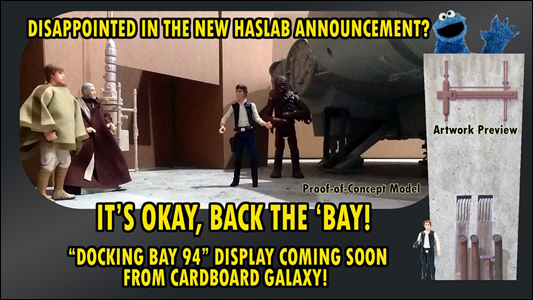 Facebook page Cardboard Galaxy has produced a fantastic enhancement for your Jabba's Palace (Adventure Set). It looks so incredible we wish Hasbro would have thought of this and added it to the box! A simple cardboard flooring and backdrop add depth and dimension like never before! Check them out! Special thanks to JTA reader Matthew C. for the tip!
-Click HERE to return to the home page-