Tag Archives:
R6-series Astromech Droid
We finish up 2022 with the Droid Factory R6-SNO figure. (more….)
Are you ready to check out the first Star Wars humanoid astromech droid action figure? You can by checking out the R6-D3/MA-13/R1/N0-AH Droid Factory four-pack based on The Mandalorian. (more….)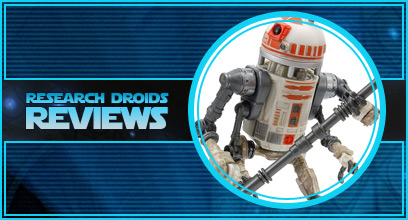 Thank you for reading Research Droids Reviews: Season 13!
Posted in
Uncategorized
Tags:

3.75-inch Action Figures, Droid Factory, MA-13, N0-AH, R1, R1 Unit, R1-series Astromech Droid, R6 Unit, R6-D3, R6-series Astromech Droid, The Mandalorian
Happy Halloween! Click below for our Halloween edition Visual Guide Update, featuring Disney Parks' R6-W1CH. You can also read our full review of this figure right here.
Happy Halloween! Another year means another Halloween-themed astromech droid from the Disney Droid Factory line. Unfortunately, R6-W1CH doesn't feel too Halloween-y. What do you think? (more….)