Tag Archives:
General Hux
Hasbro doesn't seem to realize that NO ONE wants any more toys from Episode VII or Episode VIII ever again. They managed to sucker Best Buy into taking on The First Order Celebrate The Saga multipack. And boy, is it a stinker! (more….)
Website Filmschoolprojects has an article about the "The Last Jedi" making of documentary. In the documentary it is said that Russian Twitter bots actually started a #HuxLive campaign early on to make sure the character won't be killed in the movie.
Director Rian Johnson is quoted as saying: "It's amazing, there's a coordinated effort by these Russian accounts. Hundreds of them."
Is this the actual reason Hux survives The Last Jedi? I doubt it. Whatever, I wish those Russian Twitter bots had started a #LukeLive campaign instead.
General Hux is our next Star Wars [The Last Jedi] Visual Guide update. Click below to check out our guide page. Make sure to also check out our full review.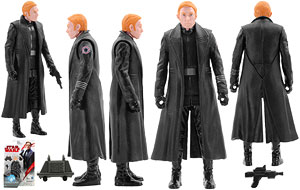 The Force Link General Hux figure is another shining example of what can be done in the 5POA line. He turned out better than expected. Find out why in our Research Droids Reviews today! Be sure to leave your own thoughts in our comments section, vote in the poll or even leave comments about it on our Facebook page. Click the banner below for the direct link to the review! As always, you can also send your own personal review requests via email if you'd like to see something that we didn't cover yet.

-Click HERE to return to the home page-