Tag Archives:
Darth Vader (The Dark Times)
Let's continue with the Retro Collection run of Visual Guides, with Darth Vader (The Dark Times) kicking off the most recently released wave from Obi-Wan Kenobi. Click below for the full Visual Guide. Make sure to also head over to our review database to catch up on our review.
We are continuing with our The Vintage Collection Visual Guide updates. Up next we've added Darth Vader (Dark Times (VC241). Click below for a look at the full Visual Guide. Read our full review of this figure right here.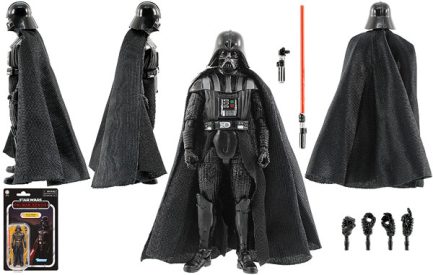 It's our 4400th RDR! And we're wasting this spot on the Retro Collection's Darth Vader (The Dark Times) figure! (more….)
Holy cow! If dealing with Disney Star Wars means we'll get figures like The Vintage Collection Darth Vader (The Dark Times) action figure, then so be it because this is the BEST 3.75-INCH DARTH VADER Hasbro ever produced. That's not an exaggeration. This action figure can do ANYTHING! By the way, it's hilarious that they gave TVC collectors an all-new figure with interchangeable hands and just gave TBS6 collectors a repack. Didn't they have better profit margins with TBS6? Oh well. You MUST check out this work of art! (more….)
This post contains affiliate links. At no additional cost to you, JTA may receive a commission if you click and make a purchase.
It's time for another round of pre-orders! As usual, we will post links as we find them! Click below for pre-order pages.
Full TVC Case that includes Darth Vader (The Dark Times) (Entertainment Earth)
UPDATE: It looks like Walmart pre-orders are delayed. We will post an update when they go live!
The Black Series
1-JAC (Walmart Exclusive)
Purge Trooper (Phase II Armor) (Walmart Exclusive)
Tala (Imperial Officer) (Entertainment Earth • Amazon)
The Vintage Collection
Instagram user @justfigsnaps was nice enough to share some detailed pictures of the newly released Obi-Wan Kenobi (Wandering Jedi), Reva (Third Sister), and Darth Vader (The Dark Times) (still unofficially revealed). Click below to check them out (amazing figures and great photos!), and stop by his Instagram account for more images. Thanks, Gareth!
-Click HERE to return to the home page-