The Hasbro NYCC Star Wars panel just ended. Not all that much that wasn't leaked before was revealed. Hasbro did specifically address the latest TVC rumor and says it's false! Click through for all the details you need to know!

I will make it short and quick.
TVC will get a repacked Jawa and a mostly repacked Yavin Ceremony Leia with new and improved face sculpt and photoreal paint apps.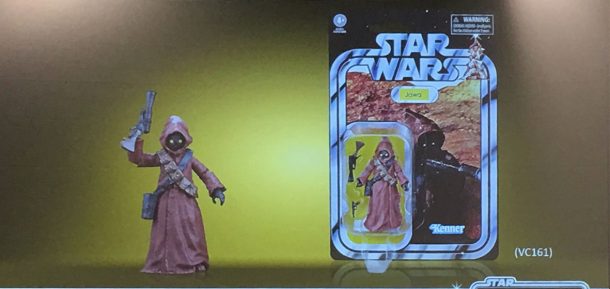 The following news may annoy TVC fans, according to Hasbro Leia takes Revan's place in the wave and Hasbro has NO plans to put Revan back in the line. The previously planned repacked Revan was removed from the line because of fan response, but no new figure will be made.
In addition to the regular TVC Sith Trooper a Sith Trooper with extra weapon pack will come to TVC as well:
The weapon builder version is an Amazon exclusive, so it should be possible to actually get the figure.
And the last thing that was revealed is the "Cave of Evil 3-pack" with Luke, Yoda, and Darth Vader with broken mask and Luke headsculpt:
This set is a Target exclusive!
Not all that much that wasn't leaked before was revealed for the Black Series.
The following figures we already know of were shown:
Jannah
Cara Dune
C-3PO and Babu Frik
First Order Jet Trooper
Purgetrooper
Wedge Antilles
Clone Commander Fox
The Episode V Chewbacca and C-3PO 2-pack
Luke Skywalker Comic Pack figure (Yavin Outfit)
On top of that Force spirit Yoda was confirmed, as well as IG-11.
Hasbro loves Walmart and so Spirit Yoda will be a Walmart exclusive.
Best Buy seems to be a new partner, they not only get the AT-ST but also IG-11 as an exclusive! IG-11 may merely be a repaint, it's dificult to tell from the photo.
And then there will be a new Incinerator Stormtrooper helmet in the Black Series:
Hasbro was specifically asked about the latest TVC cancellation rumor, or that Hasbro may choose to end the line if the figures won't sell. Hasbro replied that the rumor is false and that they have lots of plans for more Vintage Collection figures!
Hasbro was also asked about further plans for the Retro collection. Hasbro said the line sold really well, but they have no announcements for now.
And finally, everything shown on the panel will be available for pre-order on Monday!
Source for the photos: The Star Wars Underworld Twitter Page