Tag Archives:
The Power Of The Force "2"
The new Princess Leia Organa (Yavin 4) is a gorgeous figure in terrible packaging. Learn more. (more….)
Hasbro Pulse has dropped the pre-order for the Lucasfilm 50th Anniversary Princess Leia Organa (Yavin-4), featured on the commemorative The Power of the Force [Green] Card Back. Click here for the pre-order page!
We don't have the energy to complain about The Black Series 50th Anniversary Luke Skywalker figure on the front page, so if you want to hear more negativity about these exclusive, click through. (more….)
The Photo Real update on The Black Series 50th Anniversary Han Solo is a nice update, but does the upgrade make the figure worthy of your repurchase of it? (more….)
I know I see more positive reports than negative one when it comes to Hasbro Pulse. Still, JTA reader Jason A.'s recent delivery of The Black Series [Lucasfilm 50th Anniversary] POTF2 (one of their worst exclusives ever) arrived shoved into an ill-fitted box by their shipping department. This has been the norm for me. I've literally had better encounters with Walmart's shipping than Hasbro Pulse. Oh well.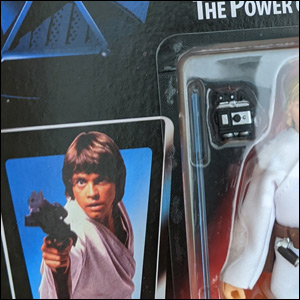 -Click HERE to return to the home page-