Tag Archives:
Crimson Empire
Here's our final Visual Guide update from the Lucasfilm 50th Anniversary Expanded Universe The Black Series figure releases: Carnor Jax. Click below for our full Visual Guide page. Make sure to also check out our full review of this figure right here.
Wow! Look at that shimmery purple lining! We expected Carnor Jax to be the dud of the four Comics And Books figures, but it ended up being our favorite. Oh, and this IS NOT Carnor Jax. It's Kir Kanos. Do you think Hasbro will issue a running change? (more….)
The Vintage Collection Emperor's Royal Guard (VC105) has never looked better. And it has more than just a couple of enhancements. The Photo Real on this figure is excellent. And the new soft goods are perfection with newly fitted proportions and new beautiful drape. Hasbro also updated the red color of the figure. The subtle orange hue is now gone. We took the time to break it all down for you by producing an all-new 84-image gallery complete with both versions (2012 and 2021) featured, comparison shots, and a breakdown of what separates the two releases in the Collector Notes. Check out this excellently updated figure in our RDRs now! There's more difference here than you may realize.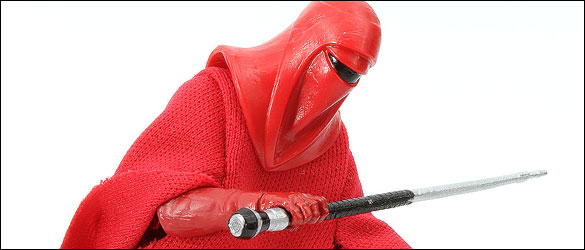 The Black Series [Phase III] Imperial Royal Guard is IN STOCK on Amazon for $21.99! Special thanks to Michael W. for the alert!

UPDATE: Sorry folks, I checked stock twice before posting and it was there. It's gone now.
-Click HERE to return to the home page-