Tag Archives:
Coastal Defender Stormtrooper
It's interesting how the "carbonized" The Vintage Collection figures are generally terrible, but the Shoretrooper (Carbonized) figure isn't. It's actually pretty nice! Check it out. (more….)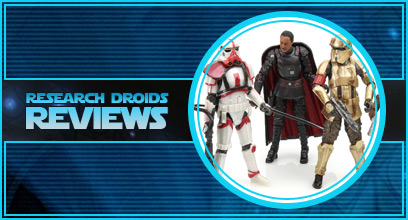 Thank you for reading Research Droids Reviews: Season 13!
Posted in
Research Droids Reviews: Season 13
Tags:

3.75-inch Super-Articulated, Coastal Defender Stormtrooper, Galactic Empire, Hasbro, Kenner, Rogue One, Rogue One: A Star Wars Story, Scarif Stormtrooper, Shoretrooper, Shoretrooper (Carbonized), The Mandalorian, The Vintage Collection, Walmart Exclusive
It's time to start working on some more figures from the S.H. Figuarts line. Click below to check out the 6″ Shoretrooper figure. We also have a complete review of this figure to check out right here.
The S.H. Figuarts Shoretrooper is a perfect action figure. See why you need this desperately in our Research Droids Reviews today! Be sure to leave your thoughts in our comments section, vote in the poll or even comment about it on our Facebook page. Click the banner below for the direct link to the review! As always, you can also send your review requests via email if you'd like to see something that we didn't cover yet.