Our friends over at Fanthatracks are giving away a Sail Barge. While you can enter from anywhere in the world, they will only ship to a UK address. Click through for full details (and restrictions).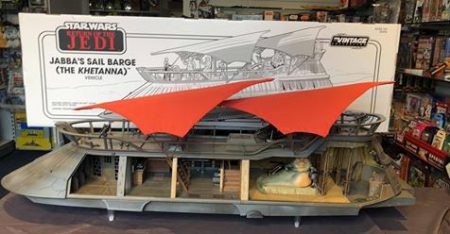 WIN A HASLAB SAIL BARGE AT FANTHA TRACKS
The HASLAB Sail Barge is finally arriving in the UK, going on sale Thursday 28th March. As part of this amazing arrival, Hasbro kindly gave us a HASLAB Sail Barge to unbox and we want to pass this work of art on to a follower of FanthaTracks TV. To win the barge, you need to be subscribed to our YouTube Channel, then watch our unboxing video (with Matt Booker and Star Wars actor Dee Tails) and then head to Fantha Tracks to fill out the form telling us how many times "the star of The Force Awakens" Constable Zuvio appeared in the video.  
Quick hint – you need to watch it right to the very end to count all of his appearances.
Enter here: https://www.fanthatracks.com/news/misc/do-you-wanna-win-a-sail-barge/ 
Once you have the answer, complete the form ensuring you tell us your YouTube name so we can check you are a subscriber and make sure you submit your entry no later than midnight on 31st March 2019.   We will then randomly select a winner from the correct answers.
Due to the size of the HASLAB Sail Barge, you have two options on how to receive it. Firstly, you can collect it from Automattic Comics and Toys in Corsham, Wiltshire, SN13 9BQ, UK at a time and date to be arranged.
Secondly, you can arrange for it to be shipped from Automattic Comics and Toys in Corsham, Wiltshire, SN13 9BQ, UK.  All arrangements and costs of having the item shipped will have to be met directly by yourself and the delivery address will have to be in mainland UK. To be clear, you don't have to be a UK resident to enter, but you must be able to get it collected or shipped to an address in mainland UK.
If you do win but aren't able to comply with these terms, then we reserve the right to void your entry and we will randomly pick another correct entry.
Good luck to everyone who enters.