A lot of news surrounding Disneyland's Galaxy's Edge attraction has surfaced in the last couple days. Earlier we posted about the upcoming merchandise you may find in the streets of Batuu, but there is so much more to the land than just what you can buy. TechCrunch was able to interview Disney Portfolio Executive at Walt Disney Imagineering, Scott Trowbridge, and he provides us with some amazing insight into the world of Galaxy's Edge. If you were wondering what their thought process was behind creating a new planet, you'll want to read more.
"Why not make a place that is very familiar from the classic Star Wars films, a Tatooine, a Hoth, or one of those places? The answer really is we know those places, we know those stories that happen there, and we know that we're not in them," said Trowbridge. "This place, Black Spire Outpost, is an opportunity."
"I want to walk into this land and be in the same level as everyone else, from the really hardcore Star Wars fan to someone who knows nothing about Star Wars," Managing Story Editor at WDI Margaret Kerrison recalls saying in the first pitch meeting she attended for Star Wars land. "I want to have that urgency to explore, to discover, to run around every corner, and to meet every single droid and alien in this land. I want to not feel like I'm at a disadvantage because I don't know all the nitty‑gritty details as a hardcore Star Wars fan would know."
Along with being part of something new that you can learn more about and explore, you will be able to meet with some of the familiar faces that appear throughout the stories we do know. One of my personal favorite characters in The Clone Wars and Rebels is Hondo Ohnaka. Disney has created one of their most advanced animatronic figures to date to bring him to the park. Check out this video to see how lifelike Hondo will be.
While the planet, Batuu, is one we have never been to in the films/shows, that doesn't mean that the whole of the land is for the newbie Star Wars fan who only knows the most recent movies. It would be difficult for me to believe any hardcore OT fan would be disappointed by the feel of Galaxy's Edge. Have you not wanted to board the Falcon since Luke and Ben ran aboard? Not only can you board the most notorious smuggling ship in the galaxy, but you can physically pull the lever that sends you and your crew into hyperspace.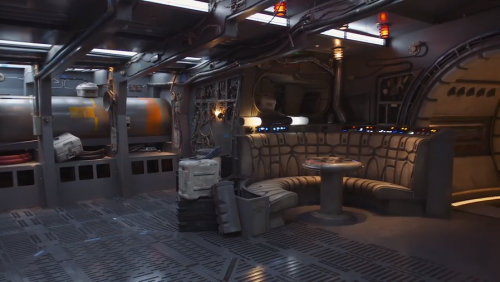 Disney will also be introducing a more permanent technological link to patrons of Galaxy's Edge. Through your phone you will have a unique identification that keeps track of your activities while on Batuu. "The land is a ride…Not only will we be able to remember [one's experiences on rides] and then interact with the guest accordingly, but over the course of several visits, we'll remember what they did the previous visit. As a result, we'll have much more of a close, tight interaction." 
Be sure to check out the full article on TechCrunch. There are plenty of additional photos of rides, buildings, hangar bays, and characters. If you want more, check out this other article by Endor Express that showcases the costumes cast members will be wearing. I am so excited to be a part of Star Wars.