Tag Archives:
Skippy
Hasbro finally fixed the back panels on the reissued The Vintage Collection R5-D4 figure by making them red. That's all we have to say. This is huge, folks.. (more….)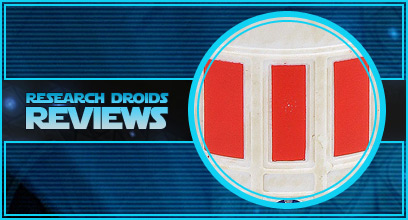 In 1984, the new packaging design for Star Wars figures was introduced for the European market. A cost containment initiative, the new packaging sported three languages of the Return Of The Jedi logo for a "one size fits all" approach. Although a "three-logo" design was created for The Power Of The Force line (as evidenced on some 'boxed' toys), it wasn't carried over to the basic figure line's card design. They continued to use the three Return Of The Jedi logos instead. Although the word "Trilogo" is found nowhere on the packaging, the term is universally adopted by all Star Wars collectors to describe this line of figures.
Today we revisit R5-D4. In the Trilogo line, the figure was renamed Arfive-Defour (R5-D4). The Trilogo card art doesn't vary much from the original card image. The review's Collector Notes are updated with this information. See the full card art and additional notes by revisiting 1979's STAR WARS R5-D4 figure HERE.
We're continuing to look at the small-scaled Action Collection figures released in 1998. Let's check out R5-D4. It's the focus of our Research Droids Reviews today! Be sure to leave your thoughts in our comments section, vote in the poll or comment about it on our Facebook page. Click the banner below for the direct link to the review! As always, you can also send your review requests via email if you'd like to see something that we didn't cover yet.

R5-D4 • Star Wars • 1979
It's now time to check out the vintage Kenner R5-D4 figure. This is another great droid for the STAR WARS line. We hope you relive your memories of the original Kenner Star Wars figures with other collectors in our Research Droids Reviews today. Be sure to add your own experiences to the conversation! Reminisce your own childhood stories of this figure in our comments. Share your life-changing vintage Kenner adolescent experiences with us!
-Click HERE to return to the home page-