Name: Pit Droids
Collection: Episode I
Number: N/A
Scale: Action Collection
Source: The Phantom Menace
Availability: TBD 1999
License: Hasbro
In a galaxy far, far away, an evil force is gaining strength and threatens an entire civilization. Two courageous Jedi, a young queen, a Gungan outcast, and a slave boy named Anakin, band together to save a planet under attack as the fate of the galaxy hangs in the balance.
Tested in The Power Of The Force "2" [Freeze Frame/The Kenner Collection] Action Collection lineup, Hasbro once again added a range a smaller-sized 12 Inch Figures (scaled appropriately to the taller figures) to the Episode I line. Beginning with Anakin Skywalker, Pit Droids and R2-A6 (which didn't become part of the 3.75" basic figure lineup in Episode I), the line offers a chance for collectors to get characters in the Action Collection range that are too short to fit in the standard packaging. Also, because of their smaller size, Hasbro knocked down the MSRP $5 to help make them a little more attractive for collectors' wallets. In our opinion, the Pit Droids set is the greatest value of the three produced in the smaller-scaled 12 inch Figures line, because not only do you get two characters for the price of one, Hasbro developed an excellent articulation system for the Pit Droids, which makes them two of the most articulated figures in the current Action Collection lineup today. To make things sweeter, Hasbro provided unique deco for each pit Droid. We get a cream-colored version with grey details and then a mostly-brown version with some battle-damage markings. Both fit into the Episode I line beautifully. We're happy to see Hasbro produce them.
Pit Droid [White] is the creamy colored Pit Droid in this set. You'll find multiple shades of gray, white and silver that give it a lived-in and in-universe appearance. This particular droid also comes with a circle on its chest, providing proof that there are many different styles of DUM-series pit droids in the Star Wars universe. The Pit Droid [Brown] is a more simply-decorated Pit Droid in this set. But Hasbro painted it just as well as the other Pit Droid. Each has silver battle-damage markings on them. Aside from wishing their antennas were a little thinner, having the ability to collapse (which is only possible through CGI) and coming with some accessories for fixing podracers, we love what Hasbro has done with them. They interact wonderfully with each other too. You can have them wrestle, argue, fight, hit each other in the noses, hug, or do ballet. We represented it all in our Photo Gallery. The Pit Droids look excellent visually, and they provide a wealth of play value thanks to how much articulation Hasbro added into their tooling. We will go into that more deeply. There are so many other characters that Hasbro can add to this reduced-scale 12 inch Figures line. We hope they bring more soon for the line's future health.
The brand new articulation system is quite a feat as we see it. It's common sense that Hasbro couldn't utilize any existing sculpts to create Pit Droid Action Collection figures for the Episode I line, but they also could have taken shortcuts when designing them. They didn't. Each Pit Droid comes with 18 points of articulation. Yes, most of it is hinge-jointed or swivel articulation, but it allows the Pit Droid to be configured into seamless and infinite poses, something that doesn't happen too often in the Action Collection line. For example, the Pit Droids come with hinge-jointed heads and hinge-jointed necks. The torso also has two points of articulation including a hinge-jointed upper torso and a lower swivel waist. There is also compounded articulation in the legs, including hinge-jointed knees and ankles with swivel hips. And the most impressive points of articulation here are the swivel wrists with hinge-jointed hands (or graspers). As you can see, the Pit Droids offer a fantastic array of movement, and because they also have beautiful sculpting, they are a win on every level for all collectors. We'd love to see more Pit Droids set produced in this scale. They are many other designs and colors we'd love to see realized in this range.
Collector Notes
Pit Droids
Assortment Number: 26227/26228
UPC: 076930262283
Retail: $14.99 USD
Market Value: Click here to check the latest prices based on

listings.
Pit Droid [White]
Status: Pit Droid [White] is an all-new figure.
Articulation Count: 18 points (18 areas of articulation)
Articulation Details: hinge-jointed head (1), hinge-jointed neck (1), swivel left shoulder (1), hinge-jointed left elbow (1), swivel left wrist (1), hinge-jointed left hand (1), swivel right shoulder (1), hinge-jointed right elbow (1), swivel right wrist (1), hinge-jointed right hand (1), hinge-jointed torso (1), swivel waist (1), swivel left hip (1), swivel right hip (1), hinge-jointed left knee (1), hinge-jointed right knee (1), swivel jointed left ankle (1), hinge-jointed right ankle (1)
Accessory Count: None
Accessory Details: None
Date Stamp: 1998
Pit Droid [Brown]
Status: Pit Droid [Brown] is a rework of Pit Droid [White].
Articulation Count: 18 points (18 areas of articulation)
Articulation Details: hinge-jointed head (1), hinge-jointed neck (1), swivel left shoulder (1), hinge-jointed left elbow (1), swivel left wrist (1), hinge-jointed left hand (1), swivel right shoulder (1), hinge-jointed right elbow (1), swivel right wrist (1), hinge-jointed right hand (1), hinge-jointed torso (1), swivel waist (1), swivel left hip (1), swivel right hip (1), hinge-jointed left knee (1), hinge-jointed right knee (1), swivel jointed left ankle (1), hinge-jointed right ankle (1)
Accessory Count: None
Accessory Details: None
Date Stamp: 1998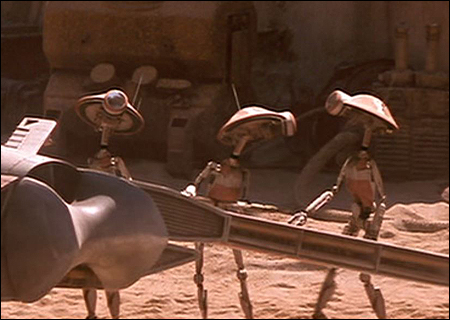 Episode I Action Collection Wave 1
Episode I Action Collection Wave 2
Episode I Action Collection Wave 3
Episode I Action Collection Wave 4
Episode I Action Collection (Small-Scaled)
Episode I Action Collection Exclusives