Name: R2-D2
Collection: Star Wars [The Last Jedi]
Number: N/A
Source: The Last Jedi
Availability: October 2017
License: Hasbro
Do you remember the height of collecting when Hasbro added the Build A Droid pack-in premium to the basic figure line? It began with The Legacy Collection and continued into the red-phased Legacy Collection until the line got canceled in the Spring of 2010 so Hasbro could prepare for The Vintage Collection. For quite a few years afterward, Hasbro was great about getting more figures utilizing the Build A Droid sculpts into the line whether they were more basic figures or just simply pack-in figures or part of a multipack. But reusing this popular sculpt ended by the end of 2012 and we have gone many years without seeing these great action figures. Disney Parks have certainly picked up the slack as they created their own 2012 and 2015 and now 2017 Disney Park Collections based on the Droid Factory sculpt.. It has become one of their popular theme park attractions. Sadly, Hasbro has remained noncommittal about their future inclusion in their own Star Wars toy line. Thankfully all of that has changed with the release of the Star Wars [The Last Jedi] R2-D2 Force Link figure. We have an elevated version of the Build A Droid R2-D2 figure that has foot wirings and can now speak thanks to Force Link technology. It feels like a dream come true, and we're thrilled that Hasbro has added such a quality figure to the simple 5POA basic figure line.
This sculpt dates back pretty far into the Hasbro line. The first time we ever saw an R2-series astromech droid that utilized this sculpt was 2009's TLC R2-L3 Build A Droid figure. You couldn't even buy this figure "whole." You had to buy at least four other basic figures to complete it. Hasbro used this same sculpt a few other times (mostly in the Legacy Collection lineup) and in other line looks that followed. It appeared that collectors could just not get enough of them. After years of none, it is a huge surprise and enjoyment to see this sculpt get utilized in the latest Star Wars toy line. R2-D2 is not perfect as he is missing some key paint operations here and there, but for the most part, the figure meets our expectations. Its sculpt is as accurate, and the scale is about perfect. The paint job that made it to the figure is nicely applied and is clean. But like we had mentioned a moment ago, important details like the silver paint on the joints of the legs are missing and should not be white. Sometimes you have to wonder if Hasbro pays attention to their reference stills. Paint detail like this is something that shouldn't have overlooked. Mistakes aside, we hope this introduces new Star Wars fans to the cool play feature of building droids and that it creates a desire for them so that future ones are forthcoming.
What may be perplexing for collectors (at the moment and before The Last Jedi's release) is why R2-D2 comes with rocket booster accessories. It's not out of the realm of possibilities that he will utilize them in Episode VIII, so we don't understand why some collectors are hung up on them. If R2-D2 doesn't utilize them in Episode VIII, then this is an interpretation of R2-D2 from Episode II. But knowing that for the most part, Hasbro has put the Prequel Trilogy into hibernation, we think it's unlikely that this is meant to be R2-D2 from Attack Of The Clones. In collector-approved fashion, Hasbro has tooled "clip on" rocket boosters. We always appreciate stuff like this. Hasbro has also added two removable flame attachments, and longtime collectors know what they're for here. The nicest surprise for us, however, is that Hasbro also retooled the body of this figure. There are no attachment holes in the lower body of this sculpt, so Hasbro has proven to us that they cared and tried to make the greatest screen accurate version of R2-D2 possible. Collectors never understood why Hasbro ever added them in the first place. We commend them on this attention to detail and making the Build A Droid sculpt more aesthetically pleasing than ever. R2-D2 is a must-have figure for us. It should be the same for you too.
Collector Notes
R2-D2
Status: R2-D2 is a retool and repaint of 2009's TLC R2-L3 Build A Droid sculpt. Differences in the tooling exist and there has been an addition of Force Link technology. The lower attachment holes on the body have also been filled.
Articulation Count: 8 points (8 areas of articulation)
Articulation Details: swivel dome (1), swivel left leg (1), swivel right leg (1), hinge-jointed left foot (1), hinge-jointed right foot (1), left leg rolling wheel (1), right leg rolling wheel (1), third leg rolling wheel (1)
Accessory Count: 4
Accessory Details: left booster rocket attachment, right booster rocket attachment, left flame, right flame
Force Link Details: *various R2-D2 language including the Wilhelm scream* • *sound effects*
Date Stamp: N/A
Assortment Number: C3526/C1503
UPC: 630509596386
Retail: $7.99 USD
Market Value: Click here to check the latest prices based on

listings.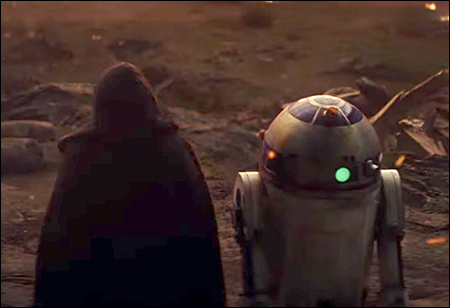 Star Wars [The Last Jedi] Orange Force Link Figures Wave 2