ANOVOS
We stopped by the ANOVOS booth and checked out what they had to show off this year. Click through for our full gallery!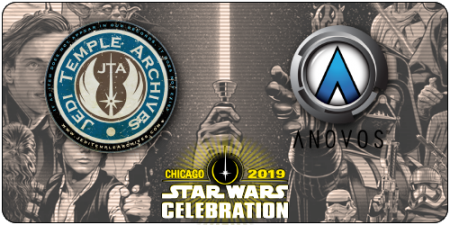 ANOVOS has their Imperial Shock Trooper Helmet Accessory available for pre-order. Click here for the pre-order page and additional details. 
ANOVOS is proud to offer the Star Wars: The Last Jedi First Order™ Stormtrooper™ Premier Helmet Accessory. The Premier Line offering is for the insatiable costumer, who needs every detail meticulously studied and excruciatingly reproduced for the ultimate wearable costume.  Noted differences from Star Wars: The Force Awakens variant include updated helmet clips, nose, teeth detail, and left aerator.
Pre-order this at the ANOVOS web site now.
Check out the new Mandalorian Jetpack Kit from ANOVOS. These are now available for pre-order. ANOVOS is proud to offer the Star Wars Mandalorian™ Jetpack Kit. The kit offers the choice to build the Boba Fett™ version, the Jango Fett™ version, or your own custom Mandalorian creation! 
ANOVOS has opened up the pre-orders for their Gold Leader Rebel Pilot Helmet, shipping summer 2018. Click here for full details and pre-order information. 
ANOVOS reveals a second version of their Sabine Wren wearable helmet. Now you can get it in both the Season 2 or the Season 4 deco. Click here for their pre-order page. 
-Click HERE to return to the home page-