Today's May 4th Hasbro livestream was actually quite decent. Five new Black Series figures were revealed, two new quite impressive roleplay items and we got another two pipeline reveals! Click through for all the details!
Ok, let's cut right to the chase!
First up is Ewok Village Leia!
A figure many have been waiting for is finally here: Leia in her Ewok village outfit! The figure comes with two accessories, a spear and a blaster.
I think this figure looks fantastic, the only detail I am not too thrilled about is the facial expression, I believe something more friendly, maybe a hint of a smile, would have been the better choice here. But I believe the headsculpt is clearly a retool of the previous Endor Leia with a new hairpiece added to the sculpt, thus the figure has the same facial expression as the previous Endor Leia. But everything else seems to be all new.
Leia is a general release and will also be available on Pulse of course, pre-order is beginning on May 5th, 1 pm. Release is scheduled for spring 2023.
Next up are the Modal Nodes! We get Figrin D'An and Nalan Cheel, while Figrin is a standard release that comes with three instrumentrs, Nalan is a deluxe release that features the remaining larger instruments like the omnibox.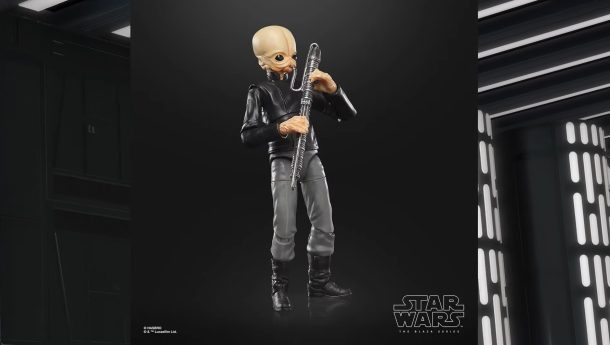 Here is Figrin with one of the three instruments.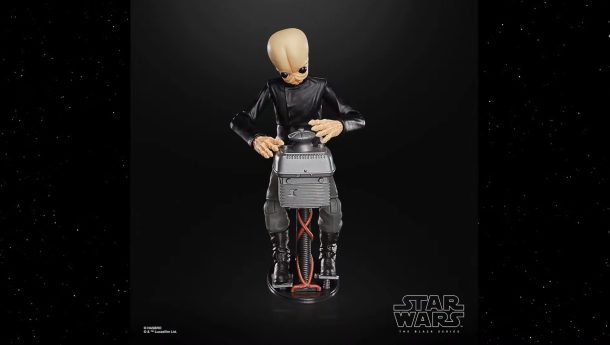 And Nalan with the omnibox, one of the three instruments the figure comes with. The Nalan Cheel deluxe set is the first deluxe set that I feel more or less deserves the "deluxe" label, since you get three moderately sized instruments as well as extra hands, so the figure can interact with all of the instruments!
Figrin D'an is an all new figure, Nalan Cheel is of course a straight repack, with the two sets Black Series collectors now can recreate their own Modal Nodes display, even though it will cost you some money to buy all the multiples.
Release date is spring 2023, pre-order is May 5th, 1 pm!
A Black Series reveal probably requires yet another clone, so Hasbro revealed the 187th batallion clone trooper who served under Mace Windu! You know this figure, it's yet another repaint.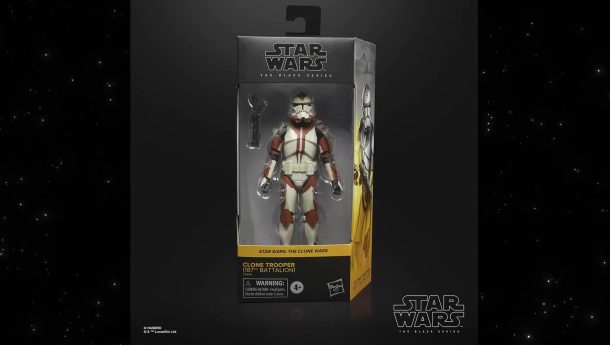 This figure will not be available for pre-order! It's a Walgreen's exclusive in the US and a Gamestop exclusive in Canada! In the UK and (probably all of Europe) it will be available at your usual specialty etailers and in the UK also on Pulse.
The next figure is more exciting again, it's the New Republic Security Droid! Hasbro admitted that they looked into re-using K2-SO parts here, but they realized that the security droid is much shorter and thus this figure got all new tooling!
This troop builder is certainly a welcome addition to the growing Mandalorian collection!
This figure is yet another general release (including Pulse) and will also be released in spring 2023. Pre-orders go live on May 5th, 1pm!
And then there are two more pipeline reveals, which are also quite exciting. HK-87 and Luke Skywalker (season 2) from The Mandalorian. Luke is of course almost certainly based on the HasLab Luke figure that was meant to come with the Rancor.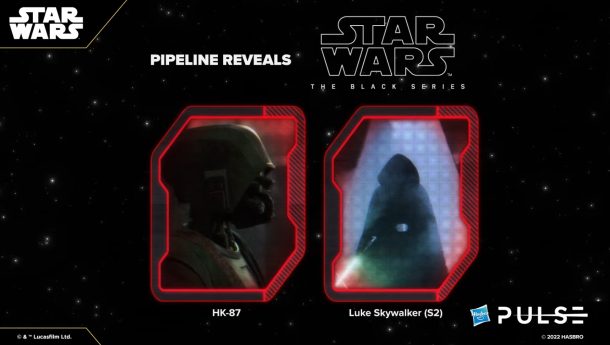 As usual no release date was given, since these figures are in the pipeline, so don't expect to see them soon, maybe in the latter half of 2023.
Finally, we have two brand new Black Series roleplay items. Ok, maybe not "brand" new, but updated versions! Both of these items come with Kenobi branding on the box!
And the two items are a new electronic Darth Vader helmet and Force FX Obi-Wan Kenobi lightsaber!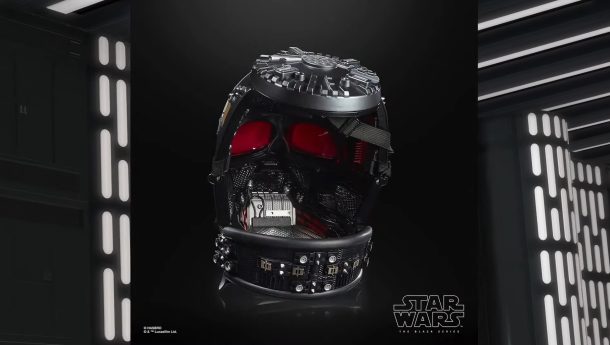 Hasbro went all in with the new Darth Vader helmet. It has a new, longer neck piece. Everything is beautifully painted. You can recreate virtually any scene from any of the movies with this helmet. It has of course all the sound FX you need.
The helmet also has new and improved paint deco!
The Obi-Wan lightsaber comes with a new sound effect, dubbed "duel effect". You can press a button to trigger the sound you get when two lightsabers clash and sustain that effect for as long as you like. Upcoming sabers will also get this new function. The saber otherwise comes with everything you expect: removable blade, display stand and extra display emitter piece when you want to display the saber without the blade.
And this is the new Kenobi branding on the box the saber comes in:
The box features a Kenobi portrait from the upcoming series and the color Hasbro uses is blue, thus any potential figures will certainly also have this shade of blue on the box.
Both roleplay items will be available for pre-order on May 5th, 1pm. Tentative release date is spring 2023.
And that's it!
A few closing remarks: Patrick was once again not present, which could mean he's no longer on the Star Wars team. Also, nothing was said about pricing. So it's anyone's guess how expensive these items will be. We will probably find out once pre-orders open.
And most importantly: nothing was said about a change to the packaging design. We got figures for the first half of 2023 and all of them come in the current boxes with plastic windows. This could mean Star Wars will NOT receive a plastic-free packaging design like Marvel Legends or GI Joe. Lucasfilm – as always – has final say here and quite frankly, a plastic-free TVC packaging makes no sense. Maybe we will hear more from Hasbro about that later.
So, what do you think about today's reveals? In my opinion it's quite a step up from previous livestreams. The overall atmosphere also felt more genuine and relaxed, less scripted.