Welcome to another one of our JTA Presents: Evolutions features! Let's check out how close or far we are from having an ideal Hasbro 3.75″ Greedo action figure. Have we arrived at definitive status yet? Weigh in and let us know what conclusion you'll come to by clicking through and adding your two cents in the comments!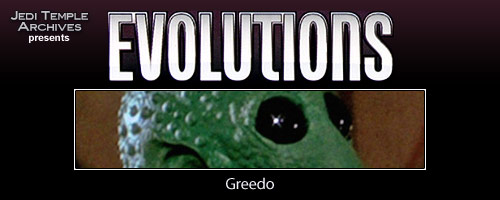 Greedo is the perfect name for a greedy bounty hunter looking to collect his reward no matter the cost. Sadly, it was Greedo's avarice that became his undoing as he suffered a blast from Han Solo's blaster pistol in Chalmun's cantina shortly after threatening him. Kenner was overwhelmed in the late seventies, and they focused their attention on the main characters when producing the first 12 3.75" action figures ever made. It wasn't until a year later that young children could add the likes of Greedo and other aliens and droids into their collections. Greedo was an immediate hit, even with his screen-inaccurate features. And Greedo remains a fan-favorite character despite the shortlived onscreen appearance in Star Wars Episode IV: A New Hope.
Greedo from 1979's Star Wars line.



The vintage Kenner Greedo is one of the most favorite action figures Kenner ever produced. He didn't come with an orange vest. And he had long shiny boots instead of shoes. But that didn't prevent any of us from enjoying the figure. With a firmly clasped right hand to place the same gun Han Solo used inside of it, Greedo became a focus of attention for kids who grew up in the late seventies and early 80s. The sculpt has some remarkable detail in it, but no one can justify the figure's inaccurate paint job by today's standards. Still, Greedo remains special for those who grew up with the original toy line.
Greedo from 1996's The Power Of The Force "2" ]Red] line.



The first modern version of Greedo came in 1996's The Power Of The Force "2" [Red] line. It was an impressive effort on Kenner/Hasbro's part, but the head sculpt was too small (which also made his eyes look too small), and the skin color was too pale. The figure's hands were especially interesting because the vintage Kenner figure didn't create the illusion that they were as long as this figure portrays them. But they are long. Hasbro/Kenner added one screen-accurate weapon and then one larger "inaccurate" weapon to their earliest figures. But collectors appreciated them regardless.
Greedo from 1999's The Power Of The Force "2" [FlashBack/CommTech] line.

Even the earliest collectors knew that complaining would result in Hasbro revisiting a figure. Unhappy with both the coloring and sculpt of the 1996 figure, Hasbro decided that collectors were indeed correct and took an entirely new approach to Greedo. It was warranted and appreciated by the collecting community. They made his head larger and more accurately shaped. And then they added enhanced articulation so the figure could sit at a table in the cantina (that we didn't have) by giving the figure hinge-jointed knees. The paint operations were also improved. For years, this remained Hasbro's "go to" Greedo figure.
Greedo from 2002's Star Wars "Saga" [Phase I] Cantina Bar Section (3 of 3) set.
By the time the Star Wars "Saga" [Phase I] line came around, Hasbro knew they had many films and Expanded universe sources to juggle in the toy line. It was time to focus on Attack Of The Clones, but Hasbro knew never to dismiss their bread and butter: the Original Trilogy. They worked in some fantastic retail exclusives like the Cantina Bar Sections sets which were Walmart exclusives and reintroduced Greedo by drastically repainting the 1999 figure. The results were markedly improved, and collectors were happy to see the figure enhanced in this manner. Some feel, however, the paint job is too dark.
Greedo (OTC #22) from 2004's The Original Trilogy Collection line.


Third time is the charm apparently, and Hasbro proved this in spades with the release of The Original Trilogy Collection's Greedo (#22) figure. Once again taking the 1999 version of Greedo, they finally mastered the correct coloring of the figure's costume and skin color and created what may remain one of their most exceptional efforts of this fan-favorite bounty hunter. Hasbro also placed this figure in packaging inspired by the vintage Kenner. It was a "win" on all fronts. This version of Greedo may never get the notoriety it deserves, but those who own the figure know how special it is. Sure, it lacks articulation, and some of the detailing in the sculpt could be improved, but overall, this figure looks gorgeous. Just look at that paint job!
Greedo from 2006's "Vintage" The Saga Collection line.
Everything changed in 2006 with the release of the "Vintage" The Saga Collection line, affectionately known as VTSC. Greedo was one of the first five figures added to this format, and Hasbro made all of our dreams come true by giving us a super-articulated version of the Rodian bounty hunter. It has one major flaw, however, and that's its oversized soft-goods vest. Many collectors take the molded vest from the OTC Greedo and place it on this figure, and it works quite well. This Greedo figure was also slightly repainted and added to the 2010 Star Wars [Shadow Of The Dark Side] Saga Legends line as well (Greedo (SL04)), but it still came with an oversized soft-goods vest.
Greedo Group Shot

Questions for discussion:
1. In your opinion, do we have a definitive version of this figure?
2. If we don't have a definitive version of this figure, should Hasbro tool a new figure from the ground up again, or should they tweak a current sculpt to perfect it instead?
3. If the figure ranks as definitive for you, do you want to see it repackaged in vintage Kenner packaging (The Vintage Collection) if it isn't already?
4. Add any other points of note or interest in the comments about any of these versions of Greedo action figures.