Today we are releasing the final installment in Tomas Pueyo Brochard's series of guest posts focusing on the Star Wars Rings. In this post, Tomas turns his attention to Rey and how the Star Wars Rings may help us predict where her story is going. Once again, we would like to thank Tomas for taking the time to write this thought provoking series. Don't forget to check out his new book, The Star Wars Rings! Click through to read the final installment!
The Final Iteration of Star Wars Rings – Rey
This article is part 3 of 3 about the Rings of the main characters in Star Wars: Anakin, Luke, and Rey, and how to predict what will happen to them. You can read Anakin's post here and Luke's post here.
If you haven't read the previous articles about Darth Vader's and Luke's Rings, you should go back and read them now. In this post, we're going to dive into Rey's Ring and what we can predict about it.
By now, it should be pretty clear that there's a pattern that repeats itself across Star Wars movies. Since Rey is the heir to Luke and Anakin, what does that tells us about her future?
In the first movie of each trilogy, Anakin, Luke and Rey have walked the same steps. Like Luke and Anakin before her, Rey lives in a desert planet, in a broken family—no family in her case, since apparently they abandoned her. She also has a knack for androids, piloting, and lightsaber fighting. She also meets two visitors from the extraordinary world of space (Finn and BB-8 in her case, instead of Qui-Gon Jinn and Obi-Wan for Anakin, and R2D2 and C3PO for Luke), who also take her with them into a space adventure. She also doesn't want to leave the planet (in her case, she still expects her family to come back to pick her up, whereas Anakin didn't want to leave his slave mother and Luke had work to do in his uncle's farm).
She also meets a mentor (Han Solo) who also dies 75% into the movie. She is also instrumental in destroying a massive spaceship that hosts secondary leaders of the Dark Side (the Trade Federation in SW1, the Death Star in SW4, and Starkiller Base in SW7). She also meets a new mentor soon after (Luke is her new mentor, Yoda was Luke's new mentor, and Obi-Wan was Anakin's new mentor). It's practically the same beginning of their Rings. Abrams was telling us this way that Rey was the heir to Luke and Anakin, and we could expect her Ring to follow theirs.
Interestingly, SW2 and SW5 are pretty similar for Anakin and Luke too. This helps us predict a lot of what might happen to Rey in SW8: like them, she will probably have a strong experience in a cave-like setting, linked to her family, that will make her reconsider her allegiance to the Light Side (like the death of Anakin's mother, and Luke's vision beheading Vader and seeing his face inside the helmet). Like them, she will probably disagree with her mentor. Like them, she will probably challenge the odds and try to help friends in distress. Like them, she will probably fall into a trap. Like them, she might even lose her limb at the end of the movie!
What about SW9? Well, we know that Luke's and Anakin's Rings only diverged in the last movie of their first trilogies, where Anakin chooses the Dark Side and Luke the Light Side. What does that mean for our heroine? She will very probably follow the steps of Anakin and Luke in SW8, and in SW9 she will follow her own path: Balance.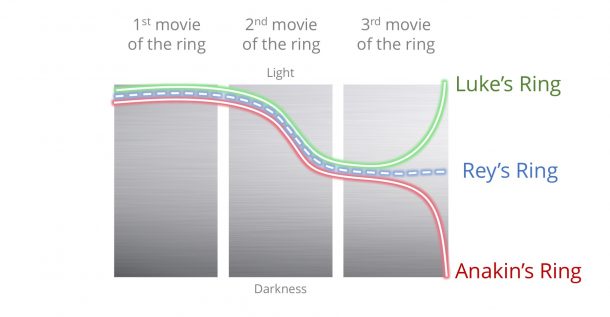 This is Part 3 of 3 about the Star Wars Rings and how they thread a storyline across generations of Jedi: Anakin, Luke and Rey. You can read more about Star Wars' structure, how it helps us predict the next movies, and much more in the book The Star Wars Rings, from Tomas Pueyo Brochard, on presale now, launching Sep 19, 2017.