Tomas Pueyo Brochard, author of The Star Wars Rings, is back with part two in a series of guest posts that focus on the Star Wars Rings how they thread a storyline across three generations of Jedi in Anakin, Luke, and Rey. Today, he focuses on Luke Skywalker's ring and what it might mean for his story moving forward. Click through to read the latest guest post from Tomas!
The Second Iteration of Star Wars Rings: Luke Skywalker
This article is part 2 of 3 about the Rings of the protagonists of Star Wars: Anakin, Luke, and Rey, and how to predict what will happen to them in the next installments. You can read Anakin's post here and Rey's post here.

In the previous post, we looked at how the Star Wars Episodes 1 through 6 are Anakin's Ring: his circular and symmetric story from Light to Darkness and back to Light. Today, we're going to look at Luke's Ring in Episodes 4 through 7, and what that tells us about Episode 8 and 9.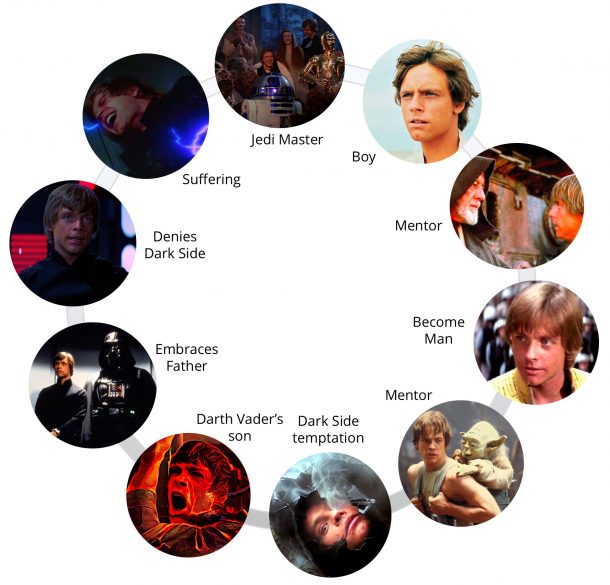 Luke's arc through Episodes 4-6 mirrors his father's arc in Episodes 1-3.
In SW4, like Anakin in SW1, Luke also starts as a young boy in a broken family in a desert planet, with a special gift for androids, piloting, and lightsabers. He also discovers a Jedi mentor, and also destroys a huge evil spaceship with a single shot.
In SW5, like Anakin in SW2, he also has a new Jedi mentor, he also trains to become more powerful, he also has a strong experience related to his family in a cave-like environment (Anakin sees his mother die in a tent, Luke sees himself in his father's helmet). The parallels go down to little details, such as how both levitate stones—in Coruscant for Anakin, in Dagobah for Luke.
In SW6, like Anakin in SW3, Luke is also tempted by the Dark Side through Fear and Anger: the Fear of losing his friends and his sister, the anger against the Emperor for planning their demise. But for Luke, Love is stronger than Fear. At the last minute, instead of turning towards the Dark Side (like Anakin when he kills Mace Windu), he chooses the Light Side and decides to stop fighting his father and the Emperor. This is the wakeup call for Anakin, who turns towards the Light Side, therefore connecting back his Ring to his own beginning and to the ring of his son.
The reason why George Lucas toyed for years to work on a new trilogy but never got to it, considering the story was done, is because this is a full Ring. He completed both Anakin's and Luke's Rings. He took Luke from the Light Side, all the way down the path of the Dark Side, and finally turned him back to the Light Side. He compressed Anakin's 6-movie ring into a 3-movie ring for Luke. Both Rings were now complete. What are you supposed to do after that? There's no story left.
Disney had this challenge in front of them when contemplating the story of the sequel trilogy. How can we justify reopening the Rings? If Darkness and Light have fought, and Light has won, what story is left to tell? The answer was there all along. They just had to find it:
Philosophically, Light and Darkness fight each other. But they also need each other. Together, they form the whole, the Dao, Balance. This is how Disney could solve the problem. It's what Disney needed the sequel trilogy to be about. Finding Balance between Light and Darkness.
Now that the writers knew how the new trilogy had to end, they had to draw the Rings from the end of SW6 to the Balance at the end of SW9. If the prequel trilogy was about the descent from Light to Darkness, and the original trilogy was the return to Light, how could they write SW7 to channel the story towards Balance?
The answer was by reinterpreting the original trilogy: it wasn't a return to Light. It was a destruction of Darkness. That way, both Light and Darkness are unstable and fighting each other throughout the Sequels, and eventually they find Balance.
That brings us back to Luke. How could they take a Jedi that had chosen the Light, and have him move the plot towards Balance? The only answer was to push him back towards the Dark Side.
This is why JJ Abrams killed off all the Jedi students in SW7. He needed a reason for Luke to get away from Light.
This also sheds light on how to interpret the new trailer for The Last Jedi: Luke has to renege from the Jedi Order as it was previously defined. Either because he's moved towards Balance, or towards the Dark Side—leaving Rey to bring Balance—he will be pulling Rey away from the purity of the Light Side.
Another tip on where his Ring is going is the poster and the logo for the new movie. The logo is the first one that's red instead of yellow. And on the poster, Luke's face is red, like Kylo Ren's, and unlike Rey's, who is breaking through, embodying the logo of the Jedi.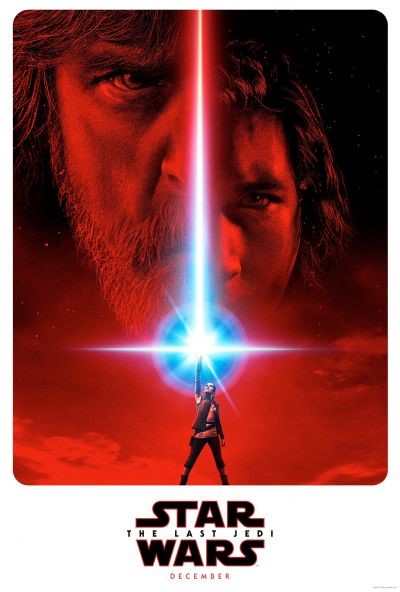 Through this Ring analysis, we get a good sense of where Luke's story is heading. Where does that leave Rey's Ring?
This is Part 2 of 3 about the Star Wars Rings and how they thread a storyline across generations of Jedi: Anakin, Luke and Rey. You can read more about Star Wars' structure, how it helps us predict the next movies, and much more in the book The Star Wars Rings, from Tomas Pueyo Brochard, on presale now, launching Sep 19, 2017.