Tag Archives:
ThinkGeek
ThinkGeek has put the Supreme Leader Snoke (Throne Room) figure up for pre-order with an "early October" availability date. Special thanks to JTA reader Ian D. for the alert!
ThinkGeek is also celebrating Force Friday II! Check out their cool new TBS6 exclusive pre-orders as well as all the other cool stuff they normally have. You can also click HERE to check out their sale items too which are up to 80% off MSRP!
This time from ThinkGeek. They sent out an e-mail last night letting customers know that Han Solo has been discontinued. I believe this is just the first of many e-mails ThinkGeek will be sending out.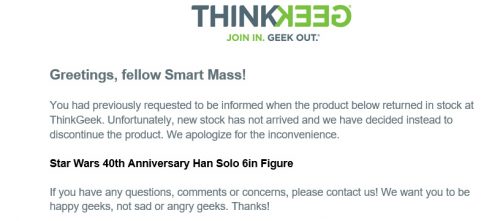 When we report things that Hasbro directly say to us at conventions as tidbits of new information or confirmation, the doubt that still remains within the collecting community perplexes us. JTA reader Paul G. sends us proof of what unequivocally MUST BE multiple solid case packs of Qui-Gon Jinn. Maybe Amazon didn't get them yet because they're showing up at ThinkGeek stores instead. We don't know as that's just a guess, but the takeaway here is that Hasbro was completely right that ALL The Black Series 6″ figures going forward will be available in solid case packs (until that directive changes). Case closed, no pun intended RFG. Click through for more information.
-Click HERE to return to the home page-