Admiral Ackbar was the next mail-away figure after THE EMPIRE STRIKES BACK's 4-LOM figure. I eagerly awaited this new character from REVENGE OF THE JEDI as I am sure so many of you did as well. And when he arrived in my mailbox, I was an ecstatic young man. I didn't understand the point or purpose of the ribbed staff included with him. But I soon accepted it as part of the character's tools and happily displayed him with it in my collection. Of course, Admiral Ackbar came packed along with 16 other figures in the most massive new wave of Star Wars figures ever in 1983. With so many members from both the Rebel Alliance and the Galactic Empire entering our collections are such a brisk speed, it was a bit difficult to keep things organized. But over time, I was able to complete the RETURN OF THE JEDI collection of action figures relatively fast. There are quite a few different types of Admiral Ackbar figures out there when you consider the deco. You'll find samples with varying maroon color for his skin (shell). And the yellow pinstripe down his pants is found in multiple shades of yellow and mustard colors. Too bad we didn't get a playset of the Home One, or perhaps his chair. That would have made him so much more interesting than he already is. He may go down in history for shouting "It's a trap!" but for me he will always be known for being the very first mail-away figure in the REVENGE (RETURN) OF THE JEDI line.
Hasbro's Most Definitive Modern Counterpart: 2010's THE VINTAGE COLLECTION Admiral Ackbar (VC22) figure.
Name: Admiral Ackbar
Collection: Return Of The Jedi
Source: Return Of The Jedi
Release: 1983
Status: Admiral Ackbar is an all-new figure.
Assortment: No. 70310
UPC: N/A
Retail: $1.99 USD
Alternate Card Art Details:
• Admiral Ackbar

• Trilogo

• Packaging features standard RETURN OF THE JEDI card art with a little recoloring.

• Character name pill and figure backer are light blue.
Market Value: Click here to check the latest prices based on

listings.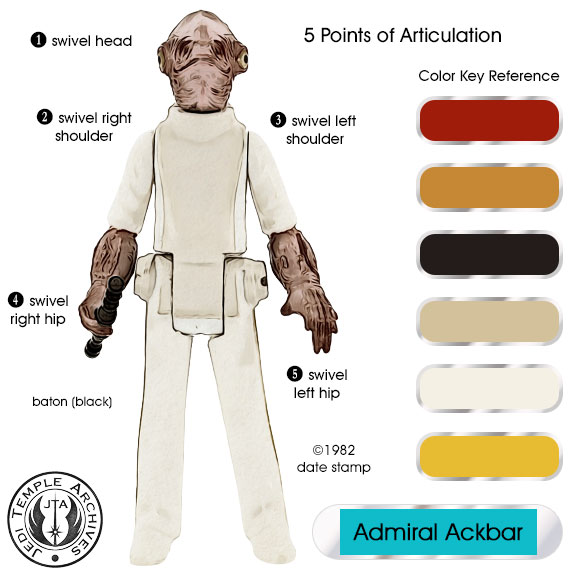 Figure Release Information
Major Figure Variations (loose): None
U.S. Card Back Release Information (confirmed to exist)
ROTJ-65A
ROTJ-65B
ROTJ-65C

ROTJ-65D
ROTJ-77A
U.S. Card Back information derived from the Kellerman Book Matrices and confirmed samples
Research Droids Data Analysis