Name: Yoda/Kashyyyk Trooper
Collection: 30 (77-07)
Number: 6 of 6 (TARGET Exclusive)
Source: Revenge Of The Sith/Expanded Universe (Hasbro Concept)
Availability: March 2007
License: Hasbro
Specially trained troopers provide military support to Yoda to crush the Separatist forces on Kashyyyk.
If there is a set to army build in TARGET's very cool Order 66 line, it would have to be the Yoda/Kashyyyk Trooper two-pack. Loosely based on the design of the clones in the 41st Elite Corps, the Kashyyyk Trooper in this set is a very striking and interesting clone trooper. Its colors don't perfectly match the color scheme of previously released members of the 41st Elite Corps, but its close enough for us to help collectors develop their respective awesome clone armies to recreate the Battle of Kashyyyk from Star Wars Episode III: Revenge Of The Sith. The Order 66 line takes a very unique Expanded Universe approach on the events surrounding the executing of Order 66 by Emperor Palpatine on the Jedi Order. Hasbro thought of clever ways to help develop the various battalions of clones that were introduced in Episode III and this is one of the greatest ways to do it, aside from a Battle Packs sets that contains multiple clone trooper action figures.
The awesome Kashyyyk Trooper is going to make collectors extremely happy, as long as you don't care that he didn't appear in Episode III. Hasbro utilized the tooling of 2005's ROTS Clone Trooper (III 41) figure and it hasn't looked better in this gorgeous camouflaged paint job. It's part Commander Gree, part generic clone and it's 100% awesome for your collection, well, at least in our eyes. The mix of a camouflaged core section with gray extremities and a bright visor sets him apart from all other clones released to date. With 14 points of articulation the Kashyyyk Trooper can achieve nearly any pose possible. You're very familiar with this sculpt by now so we won't go into a world of detail about it here. His accessories include a communications antenna and DC-15 blaster. Position him as Yoda's ally or his enemy, but just be sure to get the most out of him in your Kashyyyk worlds that you create in your collection.
Yoda on the other hand is the "obligatory" figure of the set and not nearly as exciting. Hasbro took 2005's ROTS Yoda (III 26) figure, slightly repainted it and packaged it along with the Kashyyyk Trooper to make a nice Battle of Kashyyyk duo. This version of Yoda is laden with a very poor action feature that works, but it screen inaccurate and definitely not necessary for an action figure. This version of Yoda isn't really functional, so you'll likely throw him in your extra "parts and accessories" bin for later use. But just like the other Order 66 sets, they contain one nice updated clone and their respective Jedi or Sith Master. The Order 66 sequences in Episode III were totally emotional and shocking. The TARGET Order 66 sets really don't bring that emotion into the toy line at all. So while they're called "Order 66," they more closely mimic the events prior to the execution of this murderous directive. But whatever your interpretation, if you're looking for new clones, this series is perfect for you.

Collector Notes
Yoda/Kashyyyk Trooper (6 of 6)
Assortment Number: 87362/87356
UPC: 653569229957
Retail: $9.99 USD
Market Value: Click here to check the latest prices based on

listings.
Yoda
Status: Yoda is a slight repaint of 2005's ROTS Yoda (III 26) figure.
Articulation Count: 8 points (8 areas of articulation)
Articulation Details: swivel head (1), swivel left shoulder (1), swivel right shoulder (1), swivel left elbow (1), swivel right elbow (1), swivel right wrist (1), swivel waist (action feature) (1), hinge-jointed feet (action feature) (1)
Accessory Count: 3
Accessory Details: interchangeable right hand with lightsaber, gimer stick removable outer robe
Date Stamp: 2004
Kashyyyk Trooper
Status: Kashyyyk Trooper is a rework of 2005's ROTS Clone Trooper (III 41) figure. This time the figure has been repainted in a variation of the colors of the 41st Elite Corps.
Articulation Count: 23 points (14 areas of articulation)
Articulation Details: ball-socket neck (1), ball-jointed left shoulder (2), ball-jointed right shoulder (2), ball-jointed left elbow (2), ball-jointed right elbow (2), swivel left wrist (1), swivel right elbow (1), ball-jointed torso (2), swivel left hip (1), swivel right hip (1), ball-jointed left knee (2), ball-jointed right knee (2), ball-jointed left ankle (2), ball-jointed right ankle (2)
Accessory Count: 2
Accessory Details: DC-15 blaster, removable antenna
Date Stamp: 2005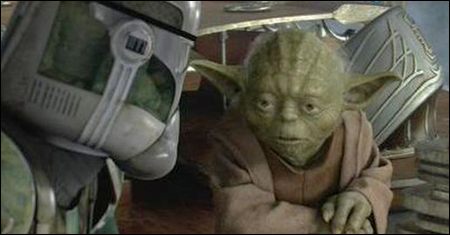 30 (77-07) Order 66
30 (77-07) Order 66 (Series 2)