There are some Concept Art Designs from The Last Jedi making there way around the web. The Templo Jedi Aztlan Facebook page received some interesting images showing some designs and concepts for some characters from the film. I will say these images are not too spoilerific, but they are things we've not seen yet so you have been warned! Come on in.. if you dare.
UPDATE: Added another image for clarification purposes.
ONE LAST CHANCE TO TURN AWAY!
Okay..here we go.
The AT-M6, which is the modern update of the AT-AT Walker. We get a quick glimpse in the trailer.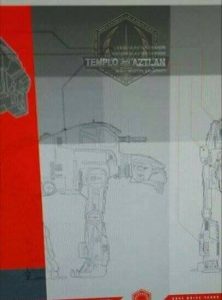 Here is a picture from the side of the AT-M6, you can see the "gorilla hands"
Next up is a new First Order Stormtrooper design. Possibly a commander, but we don't know for sure yet.
And last up is The Praetorian Elite Warrior. These are presumed to be the new Royal Guards for Snoke.
Now, we don't typically post things like this, but i thought that you would like to get a peek at what we may have to look forward to in terms of collecting. I for one would love to get my hands on a TBS 6 version of these troopers. Maybe not another Walker like they did with the AT-ACT, but a 3.75″ scale walker could be neat.
What are your thoughts?