Title: Warhead
Season: Three
Episode: 14
Original Air Date: January 14, 2017
Runtime: 22 minutes
Credits: Review & Text: Mike Taber; Page layout & Design: Chuck Paskovics
"Is that because you never learned to count? I can teach you." SPOILERS.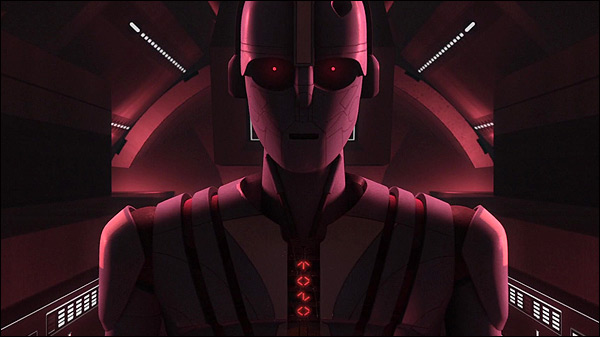 "Warhead" feels like one of the Star Wars Rebels episodes that doesn't warrant a lot of discussion. It features a simplistic storyline that is competently executed but doesn't offer up anything particularly interesting or noteworthy. With that being said, I did enjoy watching this episode for the most part. The Zeb and AP-5 relationship was more entreating than it should have been and the infiltrator droid was appropriately creepy. Much like the last episode though, "Warhead" was just okay. There are worse ways to pass the time, but this felt like another filler episode even if it helped Thrawn narrow down his search for the Ghost crew and their base. According to the episode guide at StarWars.com, this story was originally conceived as a B-story for the next episode and that's what it felt like when I was watching it. This felt like a B-story that was stretched out to occupy the full 22 minute runtime. It's a phenomenon that you usually see in long running TV shows or shows who simply have long seasons and the creators need to fill that episode order even if they don't have the material to do so. This could have been an effective B-story, but as a full length episode it felt like yet another filler episode that was largely inconsequential.
The episode began when a mysterious droid landed near Chopper base and was attacked by the local spider creatures. Meanwhile, Hera placed Zeb in charge of the base while the majority of the fleet went on a training mission. Zeb had AP-5 and Chopper to keep him company though. I'm not a big fan of Chopper and he honestly didn't contribute very much to this episode. Also there was a strange lack of continuity in the beginning of the episode when Zeb had AP-5 translate what Chopper said but was able to understand Chopper ten seconds later. Which is it? I like AP-5 a lot though. I think he's more entertaining and interesting than most of the Ghost crew, so it was good to see him get the spotlight again. I was surprised by how much I enjoyed the interactions between Zeb and AP-5. Zeb is a character that I generally like but he is so inconsistently written and underdeveloped that it is hard to form a connection with him. I thought this episode did a good job of establishing an entertaining dynamic with Zeb and AP-5 though. AP-5's overt insults and casual dismissal of Zeb were pretty funny. It's a familiar dynamic but it succeeds thanks to some sharp writing and Stephen Stanton's wonderful Alan Rickman inspired performance as AP-5.
Zeb discovered the mysterious droid and had AP-5 reactivate him. The droid appeared harmless, but Fulcrum sent a message that identified it as a dangerous Imperial infiltrator droid. The infiltrator droid was actually a relatively competent adversary. The moment when it repeated the word rebel and realized its true purpose was pretty creepy. In addition, the way it tore apart other droids for spare parts was more than a little disturbing. The infiltrator droid put up a good fight and more than held its own, which is more than I can say about 99% of the Imperials we see on Rebels. The chase was too quick though. I was hoping for an Alien inspired cat and mouse game with the droid hunting the trio at the base. Instead, it quickly shifted to Zeb trying to figure out a way to get rid of the droid because it was going to self-destruct. AP-5 was right too. It took Zeb awhile to come up with that plan. Spending more time reprogramming the droid than dealing with it felt like a bit of a missed opportunity. They reprogrammed the droid to return to the Imperial fleet where it self-destructed and destroyed an Imperial cruiser. Why wouldn't the Empire be able to identify which droid self-destructed though? That confused me. It did connect to the Imperial network after all. The episode ended with Thrawn revealing that this event helped him narrow down his search for the Rebel base. Mikkelsen is still doing some wonderful work as Thrawn and I'm glad it appears that Thrawn is closing in on the rebels, but I don't know if narrowing down his search to 94 systems is enough of an impact to justify the more tiresome and filler elements on display in this episode. "Warhead" was an entertaining but largely inconsequential episode of Star Wars Rebels.
What Worked
Zeb and AP-5
The creepy infiltrator droid
Thrawn closes in
What Didn't Work
Another filler story
Why wouldn't the Empire be able to identify the droid that exploded?
Some missed opportunities
External Links: