Title:

Star Wars Rebels: The Complete Season 2 (Blu-ray)

Release Date: August 31, 2016

Number of Discs: 3

Format: Blu-ray

Retail Price: $32.99

Credits: Review & Text: Mike Taber; Page layout & Design: Chuck Paskovics
Review | Talking Points | Discussion
Vader and Ashoka, and Space Whales, Oh My!
Review
For the purposes of this review, the Blu-ray release of Star Wars Rebels season two was viewed on 55" Samsung television. Your personal results may vary based on your viewing environment.
Star Wars Rebels certainly had an eventful second season. Familiar faces such as Darth Maul and Princess Leia returned to the Star Wars galaxy and we finally witnessed the showdown between Darth Vader and Ahsoka Tano. The Ghost crew even encountered space whales this season! I should stress that this is not a review of season two of Star Wars Rebels. You can find my reviews for every episode of season two here. This review will focus on the Blu-ray release of season two and all that it entails.
Note: This review will focus on the Blu-ray and bonus content, and not the included DVD.
Picture
Presented in crystal clear 1080p high definition and a 1.78:1 aspect ratio, this Blu-ray release creates the ideal viewing experience for fans of Star Wars Rebels. There is a big difference between watching the gorgeous Blu-ray transfer of Star Wars Rebels and watching it on Disney XD or a digital source. You don't have to worry about commercials for every toy line besides Star Wars or logos taking up half the screen. Much has been said about the more simplistic animation style on Rebels, but watching this release gave me a new appreciation for the animation work being done on the series. The Blu-ray release provides a level of clarity that actually highlights and enhances the imagery we see throughout the season. In the particular, the duel between Darth Vader and Ahsoka and the journey through the star cluster in the "Legends of Lasat" are a sight to behold. The season is broken up into three discs with the discs one and two having an approximate running time or 176 and 177 minutes respectively. The third and final disc has a running time of 132 minutes and contains most of the bonus features, but more on that later.
Sound
This release has a 5.1 Dolby Digital mix. You should have no issues with the sound, I certainly did not. It felt immersive, as all Star Wars releases should. I have to say the sound mix for the actual episodes was perfect and had the ideal balance between dialogue, music, and sound effects.
Packaging
The packaging has a simple but effective design. The front cover boasts the familiar poster for season two that prominently features Darth Vader. Meanwhile, the back of the box is covered with various scenes from the season. As I mentioned earlier, this is a three disc set and the art on each disc highlights a specific character. Ezra can be seen on disc one while Sabine and Darth Vader are featured on discs two and three respectively (No Ahsoka?). While this is a three disc set, there are only two spots so disc three sits on top of disc two. An insert with a redeemable Disney Movie Rewards code is also included.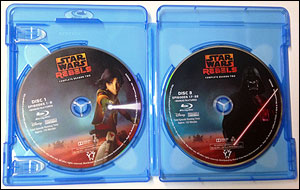 Menus and Presentation
The disc menus also have a rather simple design. Scenes from throughout the season play on a loop in the background. This is all pretty standard, but it works. Don't worry, you don't have to sit through previews for the latest Disney XD offerings before you can watch your favorite episode. No previews play when you put the disc in the Blu-ray player. You briefly see a little Chopper loading logo and then you jump straight to main menu.
Bonus Content
Unfortunately, the Blu-ray release is fairly light on bonus features. The set includes every episode of Rebels Recon, which were made available on StarWars.com while the season was airing. If you haven't watched Rebels Recon, you should. Rebels Recon is hosted by the delightful Andi Gutierrez and has provided insightful interviews with the cast and crew. In particular, the Rebels Recon for "Twilight of the Apprentice" is a must watch. One of the two exclusive bonus features is Connecting the Galaxy: Rebels Season 2. Connecting the Galaxy covers connections and easter eggs that were featured in season two. Honestly, there isn't much new here. I believe most if not all of this information was covered in Rebels Recon. The best bonus feature is Apprentice to Adversary: Vader vs. Ahsoka. In it Dave Filoni talks about the evolution of Ahsoka and her relationship with Anakin/Vader. It's always a pleasure to listen to Dave Filoni talk about Star Wars, even when he ends on a cliff hanger. Although Apprentice to Adversary is definitely worth your time, it doesn't take up much of it. Like Connecting the Galaxy, it has a short running time and doesn't go into great detail. That's it for the bonus features. There are no deleted scenes or episode commentaries, which was a little disappointing. Despite the limited bonus features, the Blu-ray release of season two is a must buy for fans of Rebels. This is the way to watch Star Wars Rebels.
Promotional Trailer
Points of Discussion
Deleted Scenes
Behind-the-scenes documentary
External Links: