Title: A World Between Worlds
Season: Four
Episode: 13
Original Air Date: February 26, 2018
Runtime: 22 minutes
Credits: Review & Text: Mike Taber; Page layout & Design: Chuck Paskovics
"I'm asking you to let go." SPOILERS.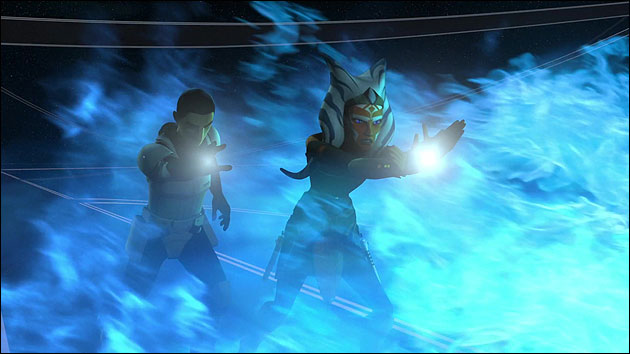 This is probably the most difficult Rebels Review I have had to write. 
I have watched "A World between Worlds" four times now and I still don't know how I feel about the episode overall. This episode changed the Star Wars saga forever, and to think this is the same series that centered episodes on Puffer Pigs, Space Whales, and stealing fruit. Dave Filoni took a huge swing with "A World between Worlds" and I certainly admire the ambition. This episode left me feeling conflicted more than anything, but I would much rather see ambitious storytelling like this than a well-executed but safe and inconsequential story. Perhaps more than any episode in the series, I think we will need time to properly evaluate the legacy of "A World between Worlds." I fully expected to see Ahsoka Tano return to the Star Wars galaxy, but I never would have guessed that time travel would be involved. Time travel. A dimension beyond space and time. The return of Ahsoka. The Emperor. Mortis Gods. The voices of past and future. There is A LOT to discuss with this episode.
"A World between Worlds" wasted no time as the episode began with Ezra arriving in the titular dimension, a pathway between all space and time. The very concept of this world between worlds is indeed a radical expansion of the Force, but I think it works within the context of this episode and the larger saga. I applaud Filoni for taking risks and truly experimenting with the Force, because that's exactly what George Lucas would have done. The introduction of this pathway between all space and time does concern me for several reasons that I will address later, but I don't think it is antithetical to what we know about the Force. Mortis seemed to exist beyond space and time as well, and I can't help but speculate that it was indeed a part or manifestation of this "world between worlds." However, I think that the root of this realm and our understanding of it is in A New Hope. 
The voice of Obi-Wan Kenobi is one of the many that we hear in this episode, and I believe he has the key to making sense of this place. Kenobi's initial explanation of the Force has everything that we need to know, "It's an energy field created by all living things. It surrounds us, and penetrates us. It binds the galaxy together." Is that not what the world between worlds represents? It is a more literal representation of an energy field created by all living things that binds the galaxy. The doorways we see are energy fields created by all living things. This place is an amalgamation of the lived experiences of all living things throughout time. The galaxy is truly bound together in a place where time and the physical have no place.
It may also be helpful to turn to Yoda who once said, "Through the Force, things you will see. Other places. The future…the past. Old friends long gone." The ideas behind the world between worlds come directly from the Original Trilogy, even if this wasn't the original intent of those lines. I do love this episode precisely because it blends past, present, and future. Including voices from throughout the saga (the films AND the animated series) was a beautiful way to bind the saga together. During our time in the world between the worlds we heard the voices of Yoda, Obi-Wan Kenobi, Qui-Gon Jinn, Anakin Skywalker, Ahsoka Tano, Darth Vader, Kylo Ren, Rey, Princess Leia, Kanan, Maz Kanata, Jyn Erso, Chirrut, Poe Dameron, Father, Son, and Daughter. It was a perfect way to unify the Original Trilogy, Prequel Trilogy, Sequel Trilogy, Rogue One, Star Wars: The Clone Wars, and Star Ward Rebels. If I had one issue, it would be that we didn't hear Luke Skywalker. The design of the world between worlds itself was minimalist but beautiful. The winding pathways encapsulated the winding and interconnected nature of history and the ripples as Ezra walked along the pathways visualized how the smallest action can send ripples throughout time.
Searching for understanding, Ezra saw the Convor that always seemed to accompany Ahsoka. The Convor landed on a doorway in which Ezra saw Ahsoka's battle with Darth Vader on Malachor. It was a thrilling and welcome surprise to see the rest of that duel. Just as Vader raised his lightsaber to make the final blow that would kill Anakin's former padawan, Ezra reached through the portal and pulled Ahsoka out as the Temple collapsed. That's right, Ahsoka lives! I fully expected Ahsoka to return, but as I said earlier I was not expecting the introduction of time travel. Let's be honest, what Ezra did is a form of time travel. Ezra altered history by pulling someone out of time. I have always admired that Star Wars resisted the urge to introduce time travel, but I suppose it was inevitable. If we are going to have some form of time travel in Star Wars, this was probably the best way to do it. This is where my concerns regarding the world between worlds come in though. The introduction of a form of time travel in Star Wars is a slippery slope and very easily could be abused. Yes, the portal was closed at the end of the episode but what's stopping another less talented writer from using the world between worlds to bring back the dead or write themselves out of a corner in the future? In addition, I have some conflicting feelings regarding Ahsoka's survival. Ahsoka Tano is one of my favorite Star Wars characters, so of course I'm thrilled that she survived and I do want to see more Ahsoka Tano stories.  However, there is an element of Filoni having his cake and eating it too. The lengths he went to ensure that Ahsoka confronted Vader, Ahsoka lived, and Vader emerged victorious are almost comedic. The fabric of space and time were altered to ensure Ahsoka's survival. Not every story needs to end in death, but Ahsoka falling to her former master would have been a poetic and acceptable end to her journey. I trust that Filoni has big plans for Ahsoka moving forward if he went to such great lengths to extend her story. I also want to take a minute to address what this means for Darth Vader. Filoni somehow found a way for Ahsoka to survive and still have Vader believe he killed her. Ahsoka disappeared in the split second before his blade could make contact and then the temple collapsed. Vader would likely have lingering doubts until his confrontation with Obi-Wan on the Death Star. Both Ahsoka and Obi-Wan vanished seconds before the killing blow from Vader. He would almost certainly draw a parallel and believe they shared the same fate. Am I happy that Ahsoka is alive? 
Absolutely! Were somewhat forced narrative contortions required to ensure Ahsoka's survival? Absolutely.
A bewildered Ahsoka woke up in the world between worlds and tried to make sense of what happened. Ahsoka did explain to Ezra that the Convor was an old friend who she owed her life. In that moment we heard another returning voice, specifically the Daughter saying, "I am the daughter." Filoni is being pretty clear in that moment, wouldn't you say? Ahsoka also suggested that Kanan's will may still be at work through the Loth-Wolfe named Dume. The Loth-Wolves are still an issue for me, but this is the most satisfying explanation of the Dume character. It is not literally Kanan because he is indeed dead. However, upon his death Kanan became a part of the larger Cosmic Force and Dume is a representation of the will of the Cosmic Force. Ezra however took this to mean that Kanan sent Ezra there to save him, just as he saved Ahsoka. Ezra rushed off and found the moment of Kanan's death. Ahsoka reminded Ezra that if Kanan is taken out of that moment then Ezra, Hera, and Sabine will all die. Ezra reluctantly learned to let go and realized that Kanan found the moment he was needed most. 
Ezra's character development has been wildly inconsistent over the course of the series, but this was a great moment for his character and continued the exploration of grief that began in the past two episodes. As Ahsoka and Ezra were searching for a way to close the portal, the Emperor appeared in one of the doorways. Ian McDiarmid was great once again and it was a delight to hear him say the name Ahsoka Tano, but overall the Emperor felt underused in this episode. The Emperor sent blue flames into the world between worlds in an attempt to grab hold of Ezra and Ahsoka. Ahsoka shielding Ezra from the flames was a great visual parallel to Kanan holding back the flames to save Ezra and the others in "Jedi Night." The Emperor was terrifying as always when he is voiced by Ian McDiarmid, but he was essentially reduced to an interdimensional boogieman and an ineffective one at that. The Emperor didn't feel like much of a threat in this episode, and that should never be the case. Ahsoka demonstrated once again that she is an intelligent and well written character when she said she had to go back to her own timeline. Ahsoka returned to Malachor and descended into the depths of the temple, just like we saw in "Twilight of the Apprentice."
Throughout the episode, Minister Hydan tried to work with the captured Sabine to figure out the secrets of the Mortis mural. I haven't devoted much time to discussing this subplot, but it was handled very well. Hydan continued to distinguish himself as a unique and compelling villain. His back and forth with Sabine was actually a highlight of the episode. In particular, I appreciated the moment when he told Sabine that she was right after she called him a mere pawn. Ezra returned from the world between worlds and Sabine told him how to close the portal. The Daughter opens the portal and the Son closes it. I really liked how the Mortis painting was used, and the function of the Daughter and Son makes perfect sense. The Daughter opens the world and gives life while the Son shuts down and offers destruction. However, an interesting juxtaposition is that in the Mortis trilogy the Son wanted to escape the confines of Mortis while the Daughter believed they had to stay. The animation of the moving Mortis mural was once again stunning and may be the standout moment in an episode that featured time travel, Ahsoka, and the Emperor. Ezra woke up following a flash of light and realized that the entire temple had vanished. The episode ended with Ezra saying goodbye to Kanan as Dume walked off into the sunset. Taylor Gray's subdued "Goodbye, Kanan" is probably his best moment as performer. "A World between Worlds" is Star Wars Rebels and Dave Filoni at their most ambitious, and we will be talking about this episode for years to come.
What Worked
Ambitious storytelling
Ahsoka!
Voices of the past, present, and future
Further explorations of the Force and Mortis
Ezra lets go and says goodbye to Kanan
What Didn't Work
Time travel in Star Wars? That's a slippery slope.
Ahsoka?
The use of the Emperor
External Links: