You may be happy or disgusted over this year's Saga Legends cast, but one thing is for sure: thank goodness Hasbro has thrown some "new" figures into the mix to make it a little more interesting and change it up a bit! While many believe these are straight repacks (and many are), eagle-eyed collectors may notice some fine line differences. Next up is Bossk! Click through to learn more!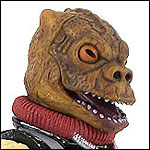 Click me to make me bigger!
Bossk has a duller paint wash for the 2010 Saga Legends release. The icon on his flightsuit has been painted on in a much crisper fashion and the yellow plug in the front of his flight suit is a bolder yellow. And the white bib is painted more evenly. The strap on his rifle is lighter and the overall paint wash is darker in many places on his scaly skin. And this is a stretch, but we're pretty certain that his collar is a darker shade of red by a degree or less. Overall, it just doesn't capture the same magic of the VTSC figure. But the improved decal on his outfit is much better. Swap heads and you should be happy.