Disney Reissues Starspeeder 1000 Vehicle Playset!
Posted by Paul | September 02, 2016 at 03:46 PM ET
JTA reader and friend Mario M. lets us know that Disney Parks have re-released the incredibly awesome Starspeeder 1000 Vehicle Playset (the one for 3.75" scaled figures). This puppy has been out of stock for a while now and has high aftermarket values as evidenced on eBay (and its relative nonexistence on eBay in general). If you missed this beauty, now is the time to act! See our review of it HERE. UPDATE: Our source reveals that this year's model has a few unique enhancements specific to The Force Awakens.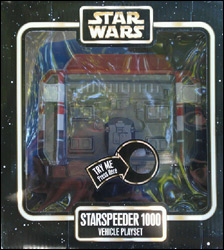 Related Links
-Click HERE to return to the home page-