Name: Jawas
Collection: The Clone Wars [Red]
Number: CW08
Source: The Clone Wars (Film)
Availability: July 2009
License: Hasbro
These Tatooine scavengers hunt for lost or abandoned equipment – machinery, droids, even starfighters that appear unoccupied. Jawas look almost identical to outsiders, but among each other, they easily identify differences in lineage, health and other details.
From 1978 until 1985 (which is also affectionately known as the vintage era), we received one Jawa figure on a basic card. We were thrilled back then most likely because we were much less picky with the people who provided us our Star Wars toys back then. But all that changed in 1995 and ever since, we have received our Jawas in some sort of two-pack in the basic line. While each release may have not contained two Jawas, it did contain at minimum one Jawa and "something else" (like a droid for example). We believe (and hope) that this will be convention until the line ends. It is undoubtedly a smart move on Hasbro's part because it ensures happiness in collectors and is a great value for our dollars. This in turn will protect Hasbro's bottom line because it will be a figure that will have steady sell through. Hasbro used the same protocol for the very first animated versions of Jawas and this two-pack couldn't thrill us more. You know that we particularly love The Clone Wars action figures that are based on characters from the films first. Well, this set doesn't disappoint us in the least because these Jawas look exactly like what the animated versions of the ones we saw in Star Wars Episode IV: A New Hope should look like. As a result, these figures will no doubt pique interest in collectors who only care about movie based figures. The Jawas in The Clone Wars line are of course unique due to their style, but they look very similar to the other two-packs we have received to date too. Likewise, you will see more than a few similarities to the 1996 The Power Of The Force Jawas in this set.
This two-pack gives fans two differently sized Jawas. Their costumes are nearly identical between them and if it weren't for their size differences, you would likely have trouble telling them apart. The costumes are molded and colored simply and beautifully and work proactively to give the collector an immediate nostalgia to our first glimpse of them from Episode IV. Their presentation is outstanding and they just look too cool for words. We expect fans to revel in these figures and build a very large Jawa army. (We are certainly inclined to do this ourselves.) The Jawas will no doubt look fantastic in your Sandcrawler or wherever other vehicle or set-up you want to place them. Since Hasbro doesn't make "animated" vehicles, your 2004 OTC Sandcrawler should work just fine for them. We are confident that an animated take on this would be ultra cool! Both figures have impressive articulation for their size so judge them not by their size. They both have eight points of articulation but in different spots. The large Jawa has a moveable head, moveable shoulders, elbows, wrists, and waist while the smaller Jawa has a moveable head, moveable shoulders, moveable wrists, waist, and two moveable feet. Each point is hidden and works well for both figures. And it is quite amazing how Hasbro possesses the ability to put ball-joints in the tiniest places. Both Jawas stand up straight without an awkward lean and can hold their shiny silver ion blasters very well. They are all around brilliant action figures. Of particular note, the ion blasters fit flawlessly into their functioning holsters and well as their hands!
One of the things we are happiest about with these figures is the omission of the eye port gimmick. It is now gone and instead Hasbro has opted for a bright yellow paint application in its place. These two tiny yellow dots do wonders for the figures and stand out better than any light eye port action feature did. The eyes are definitely the trademark feature of the Jawas and it is our opinion that Hasbro nailed it on these figures. Even in dim light, these two yellow dots glow brightly enough to show off their eyes. Their bandoliers are painted very simply, but the rich dark brown used works in favor to make them authentic and less is certainly more effective than more here. To date, the Jawas have only show up in The Clone Wars film. In a quite humorous scene, some get zapped by R4-P17 in defense of keeping Obi-Wan Kenobi's Jedi Starfighter in one piece. They are very entertaining and we hope they make some more cameo appearances in the television show. Despite their small size, the Jawas have impressive mass which proves that these are definitely more than just hollow statues. Hasbro came through for collectors and you can rest assured they are worth their very humble and fair price tag. We bet that collectors will be picking up an extra set or two (or three) of these to help round out their Jawa armies. They are awesome action figures and worthy of repeat purchases. The basic figure Jawas set is probably one of the most standout figure(s) from the first wave of The Clone Wars. Even if you don't collect The Clone Wars line, we know that you will have trouble saying "no" to these! After all, any nod to the original films always makes collectors extra happy.
Collector Notes
Jawas
Assortment Number: 87966/87638
UPC: 653569378266
Retail: $7.99 USD
Market Value: Click here to check the latest prices based on

listings.
Jawa [A]
Status: Jawa [A] is an all new-figure.
Articulation Count: 12 points (8 areas of articulation)
Articulation Details: ball-socket head (1), ball-jointed left shoulder (2), ball-jointed right shoulder (2), ball-jointed left elbow (2), ball-jointed right elbow (2), swivel left wrist (1), swivel right wrist (1), swivel waist (1)
Accessory Count: 2
Accessory Details: ionization blaster rifle, bandolier
Date Stamp: 2009
Jawa [B]
Status: Jawa [B] is an all new-figure.
Articulation Count: 10 points (8 areas of articulation)
Articulation Details: ball-socket head (1), ball-jointed left shoulder (2), ball-jointed right shoulder (2), swivel left wrist (1), swivel right wrist (1), swivel waist (1), swivel left ankle (1), swivel right ankle (1)
Accessory Count: 2
Accessory Details: ionization blaster, bandolier
Date Stamp: 2009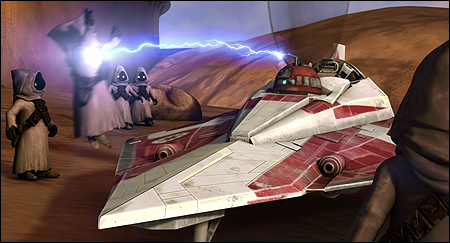 The Clone Wars [Red] Wave 1 (Wave 6)