Name: Mandalorian Warrior
Collection: The Clone Wars [Shadow Of The Dark Side]
Number: CW29
Source: The Clone Wars (Season 2 Episode 12: The Mandalore Plot)
Availability: November 2010
License: Hasbro
Dissatisfied by Mandalore's official policy of pacifism, many Mandalorian warriors have joined a secret organization known as the Death Watch. Wearing armor reminiscent of ancient Mandalorian warriors, members of the Death Watch seek to bring back Mandalore's warrior traditions. They secretly meet with Pre Vizsla, their leader, to plot the overthrow of Mandalore's rightful government.
It's quite peculiar how we got a box of four Mandalorian Warriors action figures in the Battle Packs set months before the basic carded figure came out isn't it? But then again, stuff like this happens all the time we suppose. While the figures in the multipacks are essentially the same as the basic figure, there is one noticeable different right from the get go. The blasters that fit into the holster have a finished outer coating in some sort of metallic paint (for the basic figure) while the ones in the Battle Packs are unfinished gray. Other than that we honestly don't see anything else that differs drastically enough. So if you read our review on the awesome 2010 TCW [SOTDS] Mandalorian Warriors Battle Packs set then you already know about this figure. And honestly, we are quite surprised that Hasbro decided to incorporate this character into the basic figure line. When you can buy four for about $6.25 each, are you really going to shell out and extra $.75 to get it on a basic card. Never mind, that was a stupid question.
The paint job on the basic figure has a little bit crisper lines and overall the paint job is a little bit better. There are neater applications of paint that stand out better in our opinion. (But we don't see any intentional differences so let's be clear on that.) The standard blue jumpsuit can be seen here as well as gray chest armor, cod piece and shin armor. And then he has silver gauntlets. His jetpack launches a projectile and his hands have been cleverly designed to hold the various blaster pistols that came with him. The helmet is something that we should all take notice of because it really is a superbly sculpted work of art. We think that the attention to detail has been captured with artistic grace and we don't believe we have seen a realistic version of the Mandalorian helmet looks comparably this good in the toy line yet. We hope that Hasbro takes a cue from this figure and somehow works in the angles and scale this perfectly into the next Jango Fett or Boba Fett action figure!
We bet Hasbro is banking on the popularity of Mandalorians in general to have this figure take off in sales. But interestingly this one seems to be the only peg warmer of the group. But anything can change. Who know? Maybe a surge for Mandalorian Warriors will make this figure sell like hotcakes. It makes sense why this figure may not have the same appeal as the new figures in the wave he appears, but it is alarming at the same time. Hasbro has been gracious and added ball-jointed hips. The Clone Wars kids are spoiled brats! We didn't have this as kids and we rarely get it as adults. But it seems that Hasbro is stepping up to the plate and incorporating premium articulation in so many more of their The Clone Wars figures (and more of the figures in The Vintage Collection). We set our heads (and hopes) high that it will be commonplace to see ball-jointed hips in all of our Star Wars figures one day (even the ones that don't need it). But we should enjoy thoroughly the ones that already do!
Collector Notes
Mandalorian Warrior
Status: Mandalorian Warrior is a slight repaint of the figure that came in 2010's TCW [SOTDS] Mandalorian Warriors Battle Packs set.
Articulation Count: 27 points (14 areas of articulation)
Articulation Details: ball-socket head (1), ball-jointed left shoulder (2), ball-jointed right shoulder (2), ball-jointed left elbow (2), ball-jointed right elbow (2), ball-jointed left wrist (2), balll-jointed right wrist (2), ball-jointed torso (2), ball-jointed left hip (2), ball-jointed right hip (2), ball-jointed left knee (2), ball-jointed right knee (2), ball-jointed left ankle (2), ball-jointed right ankle (2)
Accessory Count: 5
Accessory Details: 2 Westar-35 blaster pistols, Mandalorian blaster, launching backpack, projectile
Date Stamp: 2010
Assortment Number: 25687/94736
UPC: 653569577522
Retail: $7.99 USD
Market Value: Click here to check the latest prices based on

listings.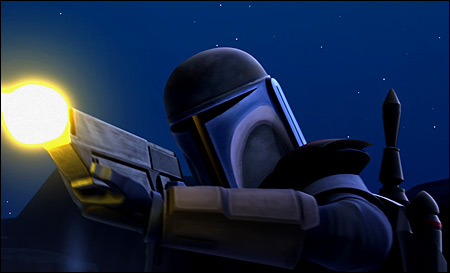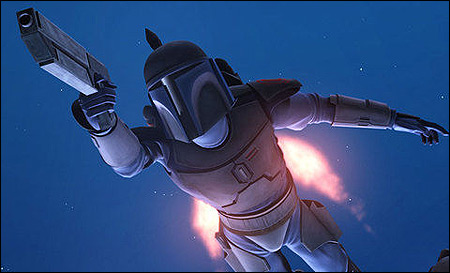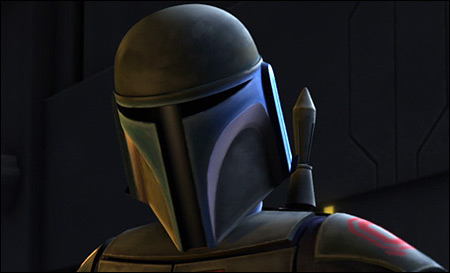 The Clone Wars [Shadow Of The Dark Side] Wave 4 (Wave 17)