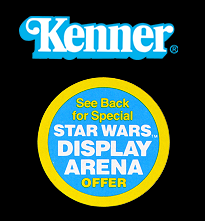 When the Kenner Star Wars commercials for C-3PO (Removable Limbs) began airing, I couldn't wait to get my hands on it. I couldn't think of a more exciting toy where I could recreate the many scenes from THE EMPIRE STRIKES BACK where Chewbacca carted around a dismantled C-3PO on Bespin as they rushed around the halls of Cloud City to rescue Han Solo from Boba Fett. If you think about it, C-3PO (Removable Limbs) is our very first "Build A Droid" figure. His head doesn't come off, but all four of his limbs do. He also came with a black vinyl "cargo net" that didn't fit him too well, honestly. But it did a decent job when you paired him with Chewbacca. It was a tough balancing act to make Chewbacca stand upright with C-3PO in the cargo net, but it was possible. And the duo of figures brought great to joy to so many of us when we were the youngest of Star Wars fans. C-3PO (Removable Limbs) went through quite a few name changes, and more differently arranged are found on foreign packaging. He also went through some aesthetic changes, and you can find him in silver and gold shades of color. Kenner carried C-3PO (Removable Limbs) through to the final 1985 THE POWER OF THE FORCE line and ultimately came with a beautiful collector's coin. Hasbro made a couple of "accessories" of this battle-damaged version of C-3PO, but if you're looking for a more 1:1 ratio of an action figure, you're probably going to have to go with Disney's DROID FACTORY version of See-Threepio (C-3PO) instead.
Hasbro's Most Definitive Modern Counterpart: The C-3PO "accessory" from 2002's STAR WARS [SAGA - PHASE I] Chewbacca (Cloud City Capture) ('02 #28) figure.
Name: C-3PO (Removable Limbs)
Alternate Names: See-Threepio (C-3PO) (with removable limbs), See-Threepio (C-3PO)
Collection: The Empire Strikes Back
Source: The Empire Strikes Back
Release: 1982
Status: C-3PO (Removable Limbs), although based on 1978's SW See-Threepio (C-3PO) sculpting, is an all-new figure.
Assortment: No. 69600
UPC: N/A
Retail: $1.99 USD
Alternate Card Art Details:
• See-Threepio (C-3PO) (With removable limbs)

• Trilogo
Market Value: Click here to check the latest prices based on

listings.
Figure Release Information
Major Figure Variations (loose): None
U.S. Card Back Release Information (confirmed to exist)
ESB-47
ESB-48A
ESB-48B
ESB-48C

ROTJ-48
ROTJ-65A
ROTJ-65B
ROTJ-65C

ROTJ-77A
ROTJ-79A
POTF-92
U.S. Card Back information derived from the Kellerman Book Matrices and confirmed samples
Research Droids Data Analysis