The cool and suave Lando Calrissian was another fun action figure to add to my Kenner Star Wars collection. Kenner approached the figure very similar to the way they did previous characters that were capes and cloaks. The soft gray vinyl cape could be worn in a variety of ways (collar up or down), and the inclusion of a blue Bespin blaster completes his look. Bespin wasn't a favorite area of play for me as a kid. I loved recreating the Battle of Hoth and the various adventures of the MILLENNIUM FALCON, but when it came to our Rebels friends making a pitstop on Bespin, well, that never left the indelible mark I thought it would. I have since appreciated this sequence of the film much more as an adult. Lando Calrissian came two different ways. The first version utilized only black paint to bring his eyes to life. But later on, samples started showing up with white color for the sclerae of his eyes in addition to show white deco added to his mouth for his teeth. Lando Calrissian interacted beautifully with Lobot, (Twin Pod) Cloud Car Pilot, and both Bespin Security Guards. In retrospect, I am so thankful that Kenner spent time building up the many inhabitants of Cloud City. Many have become favorites throughout the years.
Hasbro's Most Definitive Modern Counterpart: 2021's THE VINTAGE COLLECTION Lando Calrissian (VC205) figure.
Name: Lando Calrissian
Collection: The Empire Strikes Back
Source: The Empire Strikes Back
Release: 1980
Status: Lando Calrissian is an all-new figure.
Assortment: No. 39800
UPC: N/A
Retail: $1.99 USD
Alternate Card Art Details:
• Lando Calrissian

• Trilogo

• Packaging features alternate horizontally-flipped image with an orange wash to mimic the atmospheric glow of Cloud City.

• Character name pill and figure backer are red.
Market Value: Click here to check the latest prices based on

listings.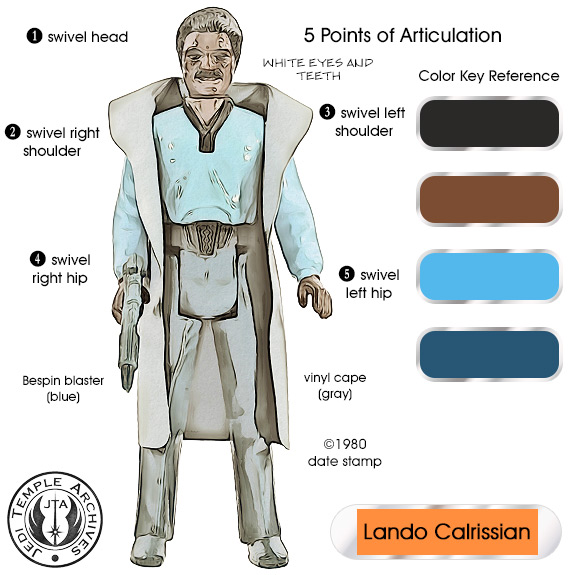 Figure Release Information
Major Figure Variations (loose):
U.S. Card Back Release Information (confirmed to exist)
without teeth
with teeth
ESB-41D
ESB-45A
ESB-47

ESB-48B
ESB-48C
ROTJ-48

ROTJ-65B
ROTJ-77A
ROTJ-79A
U.S. Card Back information derived from the Kellerman Book Matrices and confirmed samples
Research Droids Data Analysis