Name: Ziro's Assassin Droid
Collection: The Clone Wars
Number: CW37
Source: The Clone Wars (Season 1 Episode 22: Hostage Crisis)
Availability: November 2009
License: Hasbro
IG-86 assassin droids guard the lair of Ziro the Hutt on Coruscant. The lethal droids carry out Ziro's commands, which range from eliminating enemies to protecting their devious master – or capturing unwanted visitors who uncover information that jeopardizes Ziro's plans to seize his uncle Jabba's criminal empire.
Some of The Clone Wars figures are certainly getting put to good use. While the reuse of clone troopers is a no-brainer, it is not too often that we see unique droids get repainted (not including the Separatist Droid Army members of course). The exception to the rule is the IG-86 sentinel droid, also known as 2008's TCW [B] IG-86 Assassin Droid (No. 18) figure in The Clone Wars basic figure line. Hasbro has worked hard to get this sculpt out to the market multiple times and we think it has been a worthwhile mission. Including this figure, it has seen three releases in the line thus far including the 2008 TCW IG-86 Assassin Droid (No. 18) basic figure and the figure in the 2009 TCW [B] Ambush On The Vulture's Claw Battle Packs set. It was wise for Hasbro to get out so many version of this droid into the line because it is a technological wonder for an action figure (and by this we mean an articulated masterpiece). Loaded with fantastic articulation and great mobility, the IG-86 sculpt needs no tweaks. And it needs to continue being released in various ways so that we are able to build our armies. It is truly a great action figure and if you don't have one or more than one, we suggest you add it to your wish list as soon as possible.
Ziro's Assassin Droid is a cool variation of the original droid. It's pattern is designed in a helix like fashion very similar to a barber's pole in alternating gray and black stripes. It makes for a very striking look and it is a very neat coloration for a droid. This action figure needed an aggressive paint job and Hasbro certainly came through making it look very faithful and authentic to what was seen in the television series. These droids looked great against the bounty hunter backdrop as seen in the television episode and their role was significant in being Ziro the Hutt's eye. You may see this character as a little bit boring but we think any IG series droid is pretty amazing. And this action figure has exceeded what level of cool we though it would attain. Ziro's Assassin Droid is loaded with 28 points of articulation. Extra hinges (in addition to swivel wrists) on the hands push this figure beyond super-articulation and it is the perfect enhancement for this type of droid. Just like the last two versions, the two guns affix to the backpack and the backpack itself attaches to the back via a hole. If you don't like your action figures with holes in them then this may not be the figure for you, but we think it is a great convention and looks awesome when assembled. Ziro's Assassin Droid is definitely an exciting character turned action figure in the entire The Clone Wars series so far and we would actually be surprised if you didn't feel similarly about this.
As the last figure in The Clone Wars line for 2009, Ziro's Assassin Droid is the perfect "omega" to close it all out. It's hard to believe how many figures have been released in both the Legacy Collection and The Clone Wars lines in 2009 (and most of that came to us in the last quarter which was much to heavy for most of our wallets). It's been a very healthy and fruitful year and while there were some sour notes, the overall tune sounded wonderful. The series is continuing with a very strong pace and we can look forward to more great characters to round out the basic figure line. It is evident that Ziro's Assassin Droid is not an earth-shattering action figure, but it is nonetheless a very cool one. We hope that future (and likely) possibilities exist that this figure can be posed with the likes of Aurra Sing and Bossk in the animated line. (Editor's Note: Aurra Sing is released as a basic figure and Bossk is released in The Rise of Boba Fett Ultimate Battle Packs set, both of which are from the "Shadow Of The Dark Side" phase of The Clone Wars line.) It is definitely a cool bounty hunter/assassin droid and we think it is satiating the absent IG-88 in the series so far. While no character will be able to replace IG-88, we think that the IG-86 droids are doing a fine job filling the empty spot. Check out Ziro's Assassin Droid and don't mistake it for the regular IG-86 Assassin Droid basic figure. It is unique and very neat and we think you will be happy to add it into your collections!
Collector Notes
Ziro's Assassin Droid
Status: Ziro's Assassin Droid is a rework of 2008's TCW IG-86 Assassin Droid (No. 18) figure.
Articulation Count: 28 points (20 areas of articulation)
Articulation Details: swivel head (1), ball-jointed left shoulder (2), ball-jointed right shoulder (2), swivel left shoulder armor cuff (1), swivel right shoulder armor cuff (1), ball-jointed left elbow (2), ball-jointed right elbow (2), swivel left wrist (1), swivel right wrist (1), hinge-jointed left hand (1), hinge-jointed right hand (1), swivel waist (1), ball-jointed left hip (2), ball-jointed right hip (2), swivel left hip armor cuff (1), swivel right hip armor cuff (1), hinge-jointed left knee (1), hinge-jointed right knee (1), ball-jointed left ankle (2), ball-jointed right ankle (2)
Accessory Count: 3
Accessory Details: 2 droid blasters, backpack
Date Stamp: 2008
Assortment Number: 91279/87638
UPC: 653569425977
Retail: $7.99 USD
Market Value: Click here to check the latest prices based on

listings.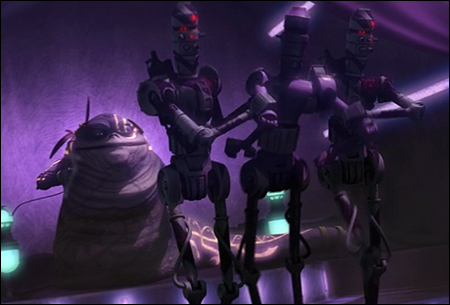 The Clone Wars [Red] Wave 5 (Wave 10)