Collection: Star Wars [Saga - Phase I]
Number: '02 #32
Availability: May 2002
License: Hasbro
Visual Analysis
Detailed Visual Analysis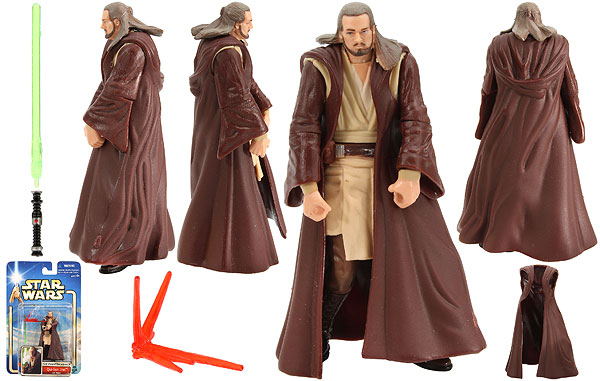 General Analysis
After rescuing Queen Amidala from the impending invasion of Naboo, Jedi apprentice Obi-Wan Kenobi and his Jedi Master Qui-Gon Jinn discover Anakin Skywalker, a nine-year-old slave unusually strong in the Force, on Tatooine. The heroes return to Naboo where Anakin and the Queen face massive invasion forces, while the two Jedi fight the evil Darth Maul and realize that the invasion is the first step in a sinister scheme by the dark forces known as the Sith.
Qui-Gon Jinn
As the desperate final battle against the Trade Federation rages on, Qui-Gon Jinn and Obi-Wan Kenobi clash against Darth Maul in the Theed power generator area on Naboo. As they reach the central core, Obi-Wan gets trapped behind a wall of raw energy and Qui-Gon continues the battle by himself, where it proves to be a day of destiny for all involved.
Not all toys that Hasbro cancels are lost causes. During the Episode I era, collectors witnessed one toy after another get canceled. Interest in things "Episode I" tapered off before Hasbro anticipated, and they had quite a few products in the pipeline that ultimately never got out. The waning interest in The Phantom Menace as we entered the new millennium was a little alarming, but Hasbro pumped out a high volume of products for The Phantom Menace and produced too many. It caused a backlog, and new products struggled to get out. Because of the jam, some figures got pushed to the side until Hasbro could find a place that made the most sense for release. Sometimes a fresh and new line look is all it takes to reignite interest in these unreleased figures. It helps to generate enough fire for another Star Wars collector buying spree. They held Qui-Gon Jinn (Jedi Master) until the Star Wars "Saga" line went into production. The Episode I Action Heroes 2-Pack sub-line was the first on the chopping block. Hasbro released only one set in 2000; The Final Lightsaber Duel (Darth Maul Vs. Obi-Wan Kenobi). Because the characters in the pack saw multiple releases as other figures already, it didn't sell well. As a result, Hasbro quickly canceled the line, and some of the sets planned, including a Qui-Gon Jinn vs. Battle Droid set, never went into production.
This completely new sculpt of Qui-Gon Jinn (Jedi Master) was a tremendous upgrade to past versions, so many collectors were relieved to see the figure finally released in the Star Wars "Saga" line. While no new plans have surfaced to release the Battle Droid from the canceled set, count your blessings that Qui-Gon Jinn (Jedi Master) escaped certain doom and got released in the first phase of the Star Wars "Saga" line as 2002's SW [S - P1] Qui-Gon Jinn (Jedi Master) figure is a nice-looking action figure. However, its articulation isn't that versatile. While it's a decently tooled action figure, it's not without issues. Even by 2002's standards, the figure is weak in many regards. And unless you're planning to use this action figure for one particular pose, there isn't a whole lot it offers to your collection. Unless you're a huge fan of Liam Neeson or a bigger fan of Qui-Gon Jinn, we feel that Qui-Gon Jinn (Jedi Master) is very far from where it needs to be, and perhaps the best thing that could have happened to it was indeed getting canceled. We know that sounds harsh and that there are a ton of collectors who buy "one of everything" when it comes to 3.75" Star Wars action figures, but this isn't the best action figure they produced, and we don't think the likeness to the on-screen character is perfect either. Your opinion is the one that counts, so you have to make the decision.
Qui-Gon Jinn (Jedi Master) isn't that functional. Hasbro designed it in a way that only has one significant pose. Although Hasbro made an effort to add several additional articulation points, most are useless thanks to the engineering. The swivel shoulders are angled inward and make the swivel elbow joints utterly moot. And the rugged plastic cape impedes any good movement within the midsection or hips. Qui-Gon Jinn (Jedi Master) is a figure for display only, not for positioning. The figure does come with some relevant accessories. That constricting robe shell is removable, but it's pointless to remove it since the sleeves match the robe and not the undershirt. The figure also comes with a lightsaber hilt with a removable blade for extra play value. And lastly, Hasbro added a blast effect to add a little additional value here and make your displays a little more interesting. The effort to bring out a canceled figure is undoubtedly appreciated, but some figures don't age well. Some appear outdated or obsolete the moment they're released. Qui-Gon Jinn (Jedi Master) may not age out instantly. It has some saving grace, but you may find it to be a little more annoying than expected. If this figure was never released, we feel not too many collectors would notice.
Collector Notes
Qui-Gon Jinn (Jedi Master)
Status: Qui-Gon Jinn (Jedi Master) is an all-new figure.
Articulation Count: 10 points (10 areas of articulation)
Articulation Details: swivel head (1), swivel left shoulder (1), swivel right shoulder (1), swivel left elbow (1), swivel right elbow (1), swivel left wrist (1), swivel right wrist (1), swivel waist (1), swivel left hip (1), swivel right hip (1)
Accessory Count: 4
Accessory Details: lightsaber hilt, lightsaber blade, blast effect, removable outer robe shell
Date Stamp: 2000
Collection: 2
Assortment Number: 84813/84861
UPC: 076930848012
Retail: $4.99 USD
Market Value: Click here to check the latest prices based on

listings.
Reference Data
Research Droids Data Analysis
Related Data Files