Collection: Star Wars [Saga - Phase I]
Number: '02 #23
Availability: April 2002
License: Hasbro
Visual Analysis
Detailed Visual Analysis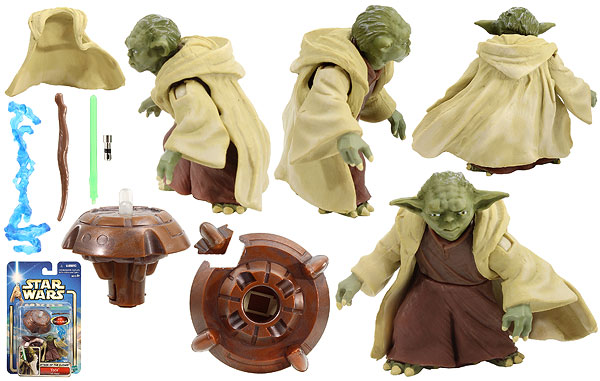 General Analysis
Ten years after the fight to save Naboo from invasion, the galaxy is on the brink of civil war. Under the leadership of a renegade Jedi, thousands of solar systems threaten to secede from the Galactic Republic. A courageous Jedi Knight, his impulsive and headstrong apprentice, and a queen-turned-senator are drawn into the heart of the conflict... and the beginning of war.
Yoda
The oldest member of the Jedi Council, Yoda is a wise and cautious Jedi Master. When Obi-Wan informs the Council of the Separatists' plans, Yoda assembles the Clone Army to subdue the rebellion. Yoda's unassuming size masks his enormous powers. His skills in The Force are not limited to wisdom and guidance, but are matched by his dexterity and fighting prowess.
We have to ask. What is up with the Yoda (Jedi Master) figure from the Star Wars "Saga" line? It's a fair assessment that, when fully assembled, this figure is a sight to behold. But what is up with the accessory you insert into Yoda's butt? (It raises the figure up and down as you twist the platform.) With all due respect to the Jedi Master, the figure is better than we're making it seem. It comes with extra play value thanks to the added environmental pieces and will undoubtedly hold kids' and collectors' interests alike. Yoda's base looks like a section of the Geonosis hangar, the one the on-screen character arrived at via the Republic gunship. Yoda's mission was to save Anakin Skywalker and Obi-Wan Kenobi from the mighty hands of Count Dooku. And although Yoda rescues them from a fatal confrontation, it was hardly a victory. Count Dooku escapes, and the Clone Wars raged on. Yoda is nearly hollow thanks to the action feature. There isn't much substance to this action figure. And even though the figure has upgraded ball-jointed articulation in the shoulders, the lower body is essentially a statue. The swivel waist does little to help you achieve additional poses, sadly.
Yoda (Jedi Master) has a decent resemblance to the on-screen character. The action figure looks a little bit meaner by comparison, but if you scan the film during the final scenes, you'll notice that Hasbro captured Yoda's consternation well in the action figure's portrait. Yoda's expression is appropriate, especially for the film's sequence on which Hasbro based this character. Hasbro added a few other neat accessories to make Yoda (Jedi Master) a little more engaging. It comes with a lightsaber that separates into a hilt (made of metal so it can be Force attracted to the magnet in Yoda's hand) and blade for some alternate posing options and extra play value. Yoda also comes with a gimer stick, so you have the opportunity to have it wobble into the "hangar" of your collection to recreate those memorable scenes. You can also recreate Yoda's whirling with the assistance of the environmental piece. Pressing it down allows the figure to spin and imitate the dizzying motion. Yoda possesses incredible skills in the Force. And you can mimic some of them thanks to the design of this action figure. Collectors will feel that the play features are cheesy, but undoubtedly, kids will like it.
Ironically, most of the plastic in the Yoda (Jedi Master) package is the accessories and base. Yoda pales in comparison to them and is barely worth its weight. But the display base not only adds some extra play value. It also provides a scenic backdrop, although we're still unable to pinpoint the precise area of the Geonosian hangar that inspired Hasbro to create it. For more play value, a piece of this display base "breaks off" and fits into Yoda's Force lighting effect (which attaches to the figure's right arm quite nicely, by the way), and you can pretend that Yoda is using it in the failed attempt to defeat the evil Count Dooku. Again, you get a ton of plastic for $4.99 here. Even if you're not into this style of a Yoda action figure, the rest of the stuff inside of the package should be something to consider adding to your collection since we don't get a ton of playsets anymore. Yoda (Jedi Master) is a decent display piece and a fun action figure, but we don't know if we can give it excellent marks as a collectors' action figure. You'll have to be the judge. But judge it not by its size, just its relevance. If you don't you'll miss out on what it offers.
Collector Notes
Yoda (Jedi Master)
Status: Yoda (Jedi Master) is an all-new figure.
Articulation Count: 6 points (4 areas of articulation)
Articulation Details: swivel head (1), ball-jointed left shoulder (2), ball-jointed right shoulder (2), swivel waist (1)
Accessory Count: 8
Accessory Details: platform bottom, platform top, broken-off platform piece, levitation Force effect, metal lightsaber hilt, green lightsaber blade, gimer stick, robe shell
Date Stamp: 2001
Collection: 1
Assortment Number: 84615/84851
UPC: 076930846155
Retail: $4.99 USD
Market Value: Click here to check the latest prices based on

listings.
Reference Data
Research Droids Data Analysis
Related Data Files