Collection: Star Wars [Saga - Phase I]
Number: '02 #44
Availability: July 2002
License: Hasbro
Visual Analysis
Detailed Visual Analysis
General Analysis
Ten years after the fight to save Naboo from invasion, the galaxy is on the brink of civil war. Under the leadership of a renegade Jedi, thousands of solar systems threaten to secede from the Galactic Republic. A courageous Jedi Knight, his impulsive and headstrong apprentice, and a queen-turned-senator are drawn into the heart of the conflict... and the beginning of war.
Ki-Adi-Mundi
Previously the only Jedi Knight serving on the Jedi High Council, Ki-Adi-Mundi now holds the distinction of Jedi Master. When the Jedi learn of the massing armies on Geonosis, Ki-Adi-Mundi accompanies Mace Windu on a desperate mission to subdue the Separatists and their ever-expanding droid armies.
There are diverse and sundry Jedi High Council members. From exotic alien species to humanoid characters, all have nobility etched into their faces. George Lucas presented the Jedi from Star Wars Episode II: Attack Of The Clones differently than he did in The Phantom Menace. Ki-Adi-Mundi, a Cerean Jedi Master with perhaps the tallest cranium of all Star Wars characters, was one of those leading the Jedi to fight in the Battle of Geonosis. He had a much more significant role that never made it to Episode II's final cut, but Hasbro prepared Ki-Adi-Mundi (Jedi Master) for the Star Wars "Saga" line. They retooled the available Episode I figure, and tweaked it quite a bit to make it specific to Attack Of The Clones. Ki-Adi-Mundi (Jedi Master) is one of 200 Jedi that came to the rescue of the three heroes in the Geonosis Arena. Hasbro is banging out one Jedi Knight or Jedi Master after another, and collectors enjoy populating their collections with these unique Star Wars characters. Hasbro's Star Wars "Saga" line, which is the unofficial "Episode II" line, covers a wide range of action figures from the entire Star Wars timeline. The tooling of these action figures, while not highly articulated, is beautiful and captures the most delicate details on the on-screen characters impressively.
Hasbro dusted off the 1999 Episode I Ki-Adi-Mundi sculpt, which happens to be an impressive interpretation of Ki-Adi-Mundi already. The sculpt has held up remarkably well, and with some fresh paint and some new tooling, Hasbro made the figure relevant to the modern Star Wars "Saga" line. The 2002 iteration is essentially the exact figure, but Hasbro tooled an all-new right arm to add a hinge-jointed elbow and swivel forearm to give the figure some mobility to wield the included all-new lightsaber. The enhancements here are not revolutionary, but they give the figure extra mobility to create exciting action poses. We love the update, but know that we still need an all-new definitive version of Ki-Adi-Mundi (Jedi Master) before collectors check this character off of their wish lists. At the same rate, you also need to know that this particular action figure sculpt is aging beautifully. When other figures have gone the way of the dinosaur, Ki-Adi-Mundi (Jedi Master) looks as new and fresh as ever, but it's most accurate to refer to this action figure as "refreshed," however. The new paint operations are gorgeous. You'll find wear, dirt, and a revitalized color scheme in the facial features, breathing life into the action figure. The final result is screen-accurate and recreates the trusting appearance of the revered Jedi Master. We're confident you'll be impressed.
Ki-Adi-Mundi (Jedi Master) comes with three accessories. A somewhat bittersweet blaster effect that borders on annoying joins a lightsaber hilt (cast in metal to function with the magnet embedded into the right hand) and a lightsaber blade. The red "blast effect" accessory loosely attaches to the lightsaber blade. It will periodically "fall" if you don't balance it with whatever friction exists between it and the blade. So, it's a bit of a pain in the butt. We're not big fans of these Force effects and blast effects Hasbro added to these figures. While they do dress up the figures and potential dioramas nicely, they're a bit of a nuisance. We're also not crazy that the hilts to many of the lightsabers with the Star Wars "Saga" figures are real metal. The blade's plug breaks off too easily and permanently damages the accessory. You'll never have a fully lit lightsaber again if it breaks. We'd prefer if Hasbro included a separate hilt and separate "fully lit" lightsaber, so collectors get the most out of the action figure and related accessories. But these complaints are minimal setbacks. Ki-Adi-Mundi (Jedi Master) is still excellent for what it is: a significant retool and repaint of an older figure. Coincidentally, Hasbro designed and tooled the figured three years before releasing the Star Wars "Saga" line. And, as we've mentioned earlier, it looks significantly better than many others produced as all-new figures in that line.
Collector Notes
Ki-Adi-Mundi (Jedi Master)
Status: Ki-Adi-Mundi (Jedi Master) is a retool and repaint of 1999's EI Ki-Adi Mundi figure. The time the figure has an all-new right arm.
Articulation Count: 7 points (7 areas of articulation)
Articulation Details: swivel head (1), swivel left shoulder (1), swivel right shoulder (1), hinge-jointed right elbow (1), swivel waist (1), swivel left hip (1), swivel right hip (1)
Accessory Count: 5
Accessory Details: hilt, detachable blue lightsaber blade, blast effect
Date Stamp: 2002
Collection: 2
Assortment Number: 84912/84861
UPC: 076930849125
Retail: $4.99 USD
Market Value: Click here to check the latest prices based on

listings.
Reference Data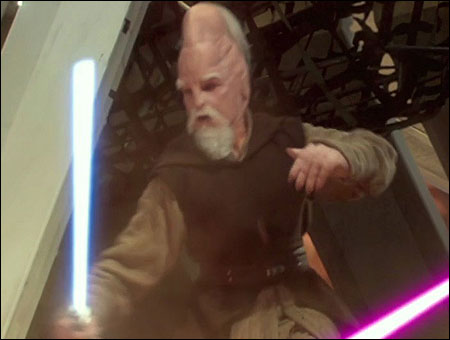 Research Droids Data Analysis
Related Data Files