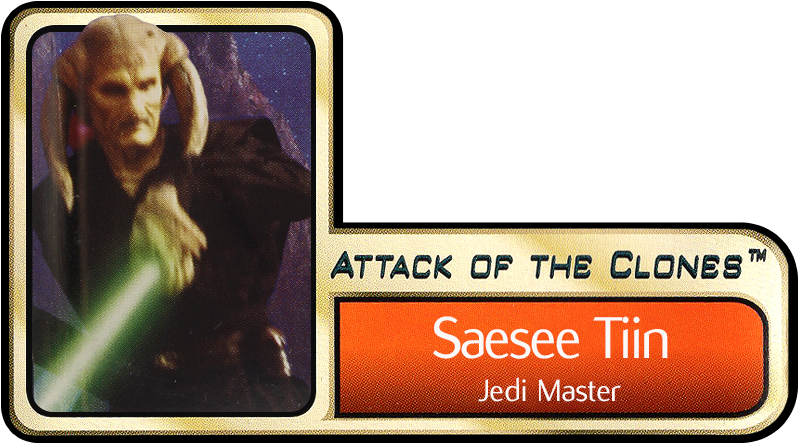 Collection: Star Wars [Saga - Phase I]
Number: '02 #20
Availability: April 2002
License: Hasbro
Visual Analysis
Detailed Visual Analysis
General Analysis
Ten years after the fight to save Naboo from invasion, the galaxy is on the brink of civil war. Under the leadership of a renegade Jedi, thousands of solar systems threaten to secede from the Galactic Republic. A courageous Jedi Knight, his impulsive and headstrong apprentice, and a queen-turned-senator are drawn into the heart of the conflict... and the beginning of war.
Saesee Tiin
A member of the Jedi Council, Saesee Tiin's telephatic mind races ahead to foresee possible outcomes to events, providing a unique perspective to the Council.
Episode I explained how the Jedi High Council set up shop, but Episode II showed us how they utilized their Jedi skills and arts. Star Wars Episode II: Attack Of The Clones provided Star Wars fans with an exciting sensory-overloaded scene during the Battle Of Geonosis. While it started as an execution of the three main heroes of the film, the attention was quickly turned from them and to an all-out war between the Jedi, Separatists, and eventually the Grand Army of the Republic. Many Jedi, for the very first time, were seen battling the enemy and wielding their unique lightsabers. We only witnessed Saesee Tiin sitting in a chair in The Phantom Menace, but we saw him in a much more aggressive manner at Episode II's tail end. We all quickly realized how important his role in the Jedi order was and why he struck a chord with so many Star Wars fans. Typically less is more in Star Wars, and the less you know about a character makes you like them more. With Saesee Tiin, he was a background Jedi, but we caught enough glimpses of him that made him quite memorable. It seems the more cantina-like a Star Wars character is; the more traditional fans love them.
Hasbro developed an action figure of Saesee Tiin in the Star Wars "Saga" line that was quite different than the first version released in the Power Of The Jedi line as 2001's POTJ Saesee Tiin (Jedi Master) figure. The sculpt of the POTJ figure was excellent, but it presented Saesee Tiin in a reserved Jedi High Council manner. The complete antithesis of that figure is the Star Wars "Saga" Saesee Tiin (Jedi Master) ('02 #20). We aren't entirely crazy about the 2002 action figures and their action-oriented poses, but there is indeed something about this release that is gripping. You are limited in how you can display this figure, and the included Force effect is downright silly, but Saesee Tiin (Jedi Master) doesn't look half as bad as you might think. The face holds an expression of determination, and the included ball-jointed shoulders give it versatility in achieving a decent arrangement of lightsaber-wielding poses. The outfit appears accurate, save for the missing outer robes and the paint job on the face. While somewhat messy in spots, the paint operations give the character a nice texture and screen accurate likeness. Saesee Tiin (Jedi Master) comes with two swivel hips joints that provide the figure with a "running" pose. The figure isn't statuesque like some of the other Jedi releases alongside this one.
It's hard to say if the Saesee Tiin (Jedi Master) action figure is a step up from the action figure brought to us in the Power Of The Jedi line. They have two distinct looks and serve two specific purposes. You'll need both if you want a version from Episode I and one for Episode II. The accessories make Saesee Tiin (Jedi Master) a little more interesting anyway. The lightsaber hilt and blade are two separate pieces, which seemingly is a practical option here. But be careful. The blades' posts break off too easily than anything else we have seen in the Star Wars toy line to date. What makes it worse is that they typically break off inside of the hilt and remain there forever. We honestly don't understand the Force effect's inclusion with this release and other figures in the line, but it adds dimension and color to the action figure. Hasbro includes these accessories for additional play value and colorful displays but doesn't expect them to show up in deleted scenes or during the Battle of Geonosis. It's Hasbro being extra creative. Saesee Tiin (Jedi Master) is one of the more excellent Jedi figures in the Star Wars "Saga" line. Many will forgo it because of the wonky pose, but you'll find that you can make this figure work in your collection if you spend some time with it.
Collector Notes
Saesee Tiin (Jedi Master)
Status: Saesee Tiin (Jedi Master) is an all-new figure.
Articulation Count: 9 points (7 areas of articulation)
Articulation Details: swivel head (1), ball-jointed left shoulder (2), ball-jointed right shoulder (2), swivel right elbow (1), swivel waist (1), swivel left hip (1), swivel right hip (1)
Accessory Count: 3
Accessory Details: lightsaber hilt, lightsaber blade, Force effect
Date Stamp: 2002
Collection: 2
Assortment Number: 84832/84861
UPC: 076930848326
Retail: $4.99 USD
Market Value: Click here to check the latest prices based on

listings.
Reference Data
Research Droids Data Analysis
Related Data Files