UPDATE! The Black Series [Phase III] 6" Figures For Three Cents Each?
IT IS TRUE! ALL OF IT! Here is ANOTHER unbelievable find (that I am UNABLE to confirm)! In all my life collecting, I have NEVER seen action figures on clearance go this low. I have seen $.100, but never $.03. Commenters are claiming that Brickseek has older The Black Series [Phase III] 6″ figures listed for this price, but I am unable to confirm anything similar myself. There are also comments that it affects the new Death Star Commander too. Special thanks to friend Derek T. for alerting me to this image from The Black Series 6″ Collectors Facebook page!
UPDATE! We have a photo of JTA reader Brett P. scanning the 6″ figures at his local local Walmart. $0.03 EACH! INSANITY! Click through for the proof!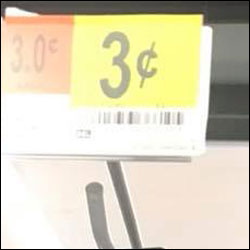 Related Links
-Click HERE to return to the home page-