JTA reader dogbite is impressed with the new The Force Awakens focused Titanium Figures. Click through for what he has to say about them.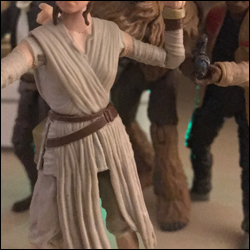 Hey Paul!
Go by the username dogbite on disqus, just wanted to clue you in on something you may or may not be aware of…
The latest offerings in the Titanium series, while mostly a wasteful endeavour, have produced some of the most detailed head & accessory sculpts we've yet seen for these characters & objects in this scale (I'm talking saber loops, red buttons, gold plates, exposed wiring – the works)
Seriously, the Rey very clearly triumphs over any other produced to date, possibly even 6"…check it out in the attachments!
Please excuse the blurry flash photography, but hopefully you get the idea 😛
Keep up the good fight, ta-ta for now!