Tag Archives:
Vizam
Our latest addition to the Visual Guides features the Skiff Guards 3-Pack from The Vintage Collection. Click below to check out full guides of Vedain (Skiff Pilot), Vizam, and Brock Starsher. You can also see our full review of this set over in our review database.
The Special 3 Action Figures [Vedain (Skiff Pilot)/Vizam/Brock Starsher] multipack is a great start. And more need to enter The Vintage Collection immediately. NEW IMAGES ADDED! See what makes this three-pack so incredible in our Research Droids Reviews today! Be sure to leave your thoughts in our comments section, vote in the poll or comment about it on our Facebook page. Click the banner below for the direct link to the review! As always, you can also send your review requests via email if you'd like to see something that we didn't cover yet.
It's quite astounding how much joy toys from the Original Trilogy bring longtime collectors. I have two-thirds of the figures from the Special 3 Action Figures set already, but what a joy it was to see them in The Vintage Collection packaging. You don't get the same response from other Star Wars toys across the saga. Anyway, Vedain (Skiff Pilot) utilizes two other The Vintage Collection figures with new parts, and Hasbro was VERY CLEVER how they did it. I almost didn't notice the reused parts at first. And the two repacks have been repainted. This set also gives us numbers VC152, VC153 and VC154 in the collection's sequencing. Another incredible hit, I can't wait for more packs like this in the future. This is another gem in The Vintage Collection. Check out the gallery early RIGHT NOW!
Welcome to another one of our JTA Presents: Evolutions features! Let's check out how close or far we are from having an ideal Hasbro 3.75″ Vizam action figure. Have we arrived at definitive status yet? Weigh in and let us know what conclusion you'll come to by clicking through and adding your two cents in the comments!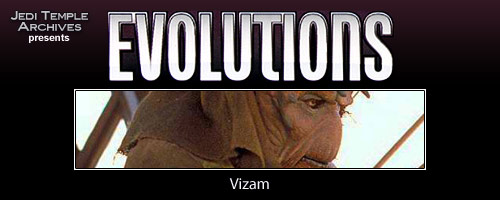 Posted in
Evolutions
Tags:

3.75-inch Action Figures, 3.75-inch Super-Articulated, Battle Of Carkoon, Cinema Scenes, Hasbro, Jabba's Skiff Guards, Nikto, Skirmish At Carkoon, Star Wars "Saga" [Phase III], Star Wars Episode VI: Return Of The Jedi, The Black Series [Phase I], The Power Of The Force "2" [FlashBack/CommTech], Toys R Us Exclusive, Vizam
As per HasLab's Exclusive Update #1, Hasbro added additional areas to the rails on Jabba's Sail Barge to accept the existing cannon that came with both 2009's LC Nikto Gunner [Nysad] (BD23) and 2013's TBS [P1] Vizam (#17) figures, something JTA specifcially asked about at Toy Fair this year. As expected, the figures are selling out on the aftermarket so collectors can secure these accessories now. There are still a few on eBay (and Amazon), so you might want to see if you can secure one too. Some of the eBay aucions are completely untouchable, but you can find some loose sample for a great deal. It's always possible that Hasbro can reissue either figure in The Vintage Collection, but why take the risk??
This question came up a few times in various comments on Social Media. Will I be able to attach the cool deck cannon accessory that came with Nikto Gunner (BD23) and Vizam (TBS #17) to the rails of the sail barge? We asked Steve Evans directly in the comments section on one of our Instagram posts. The short answer? No. Here's what he had to say…
The thickness of the deck railings weren't thin enough to take the clip. But…. I'm seeing what we can do about it. One of the small benefits of Sharing with the fans at the beginning of the development process. No promises tho.
So, as of right now, you will just have to attach those cannons to your skiffs! And, I guess we won't know if any changes are made to accommodate this on the barge itself until you BACK THE BARGE! You can view our full Instagram post here.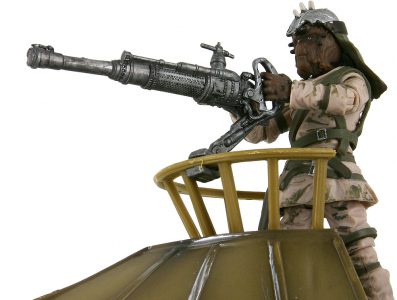 -Click HERE to return to the home page-