Tag Archives:
Things From Another World
You can pre-order the Funko Pop! Deluxe Chewbacca in AT-ST for only $23 right now from ThingsFromAnotherWorld.com for a March release! That's a great deal for Pop! collectors. You can also pre-order the Forces of Destiny comics and variant covers (some look fantastic) here as well.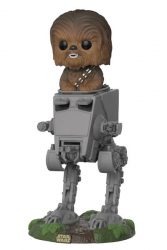 The new Funko Pop Leia On Speeder Bike is up for pre-order from TFAW for only $23.19 which is the lowest I've seen it. The great thing about this set? Luke on Speeder Bike is the Chase Variant and he's only a 1:6 rarity! 
ThingsFromAnotherWorld.com has nearly EVERYTHING on sale for up to 75% off including pre-orders for the new comics and novels, ARTFX Statues, Pop! figures, and everything else. Take a look at all their Star Wars items and see what you can find. The new Kylo in TIE Silencer Pop is on sale for $23,  Yoda & R2 Dagobah ArtFX statue is only $49, and the ROTJ Luke ArtFX Statue is only $63! These are just a few of the many things on sale. What did you find?
Things From Another World has some of the newest Comic Trades up for pre-order. If you're one who prefers the trades, they are great prices for these titles including Part One of the new Darth Vader Series (a MUST read), Journey To TLJ Captain Phasma, Rogue One, Screaming Citadel, Darth Maul- Son of Dathomir (new printing), and many, many more.  And if you haven't yet, be sure to check out the RDR's Comic Reviews!
If you're a fan of Pop!'s, then you probably will want to get your hands on this TIE Fighter with TIE Pilot. Just like the Target Exclusive Darth Vader with TIE, this TIE Fighter sits on the dome of the Death Star. It's also on sale for $23.19 at Things From Another World!
-Click HERE to return to the home page-