Tag Archives:
The High Republic: Light of the Jedi
This post contains affiliate links. At no additional cost to you, JTA may receive a commission if you click and make a purchase.
The first book in The High Republic era is out today. You can pick that up at your local bookstore, or head over to Amazon and pick The High Republic: Light of the Jedi. 
As we wait for the first official news of Project Luminous tonight (supposedly), we got our first look at where we will be heading. Charles Soule, writer of many of the best modern Star Wars comics, will deliver his first full Star Wars novel The High Republic: Light of the Jedi. There are also some other as-of-yet untitled Project Luminous titles listed on the Random House site, but this cover has gotten me pretty excited. Hopefully, this announcement will give us some amazing new content to look forward to. As a fan of the comics and novels, I'm personally excited to read a Charles Soule novel about a completely new era in Star Wars history, but I am also anxious to see where this goes in film/tv. Are you looking forward to moving outside of the Skywalker Saga? Let us know!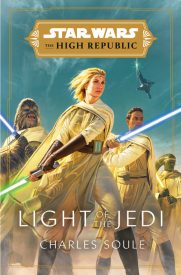 -Click HERE to return to the home page-