Tag Archives:
The Bad Batch
Hasbro reached "expert" status when it comes to pouring salt into the wounds of collectors. After a fantastic run of 6-inch Bad Batch characters, JTA reader icatch9, as well as I, found the Bad Batch Mission Series set over the weekend at Target. And the number of figures produced for The Vintage Collection remains a big, fat ZERO.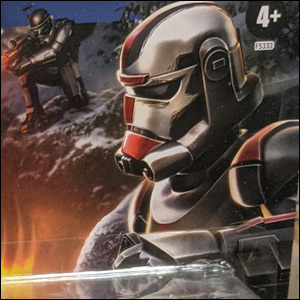 The Black Series [Phase IV] Tech is an AWESOME action figure. You'll definitely want this one! (more….)
Let's take a look at our next Visual Guide, featuring Hunter (TBB01) from The Bad Batch. Click below for our full guide page. Click here for our full review and extended gallery.
Up next for our Visual Guide updates is wave 4 from The Black Series [Phase IV]. Click below to check out Crosshair (TBB02) from the upcoming The Bad Batch series. You can also read our full review of this figure right here.
Another member of The Bad Batch is part of the latest wave The Black Series [Phase IV] figures now hitting everywhere. Check out Hunter, the leader of the pack!. (more….)
The latest wave of The Black Series [Phase IV] figures is hitting, and they're all mostly incredible. Let's check out Crosshair, a leader of Clone Force 99, and part of The Bad Batch. (more….)
The Clone Wars are back! One week late I will begin to review all the new episodes here on JTA. Today I will talk about the first episode of season 7, on Tuesday or so I will talk about the second episode of season 7 and from then on I will review each new episode over the weekend.
In "The Bad Batch", the Separatists give the Republic a hard time on the planet of Anaxes as they capture very important shipyards. Captain Rex cannot really explain why and how the Droid Army can so easily adapt to all of his plans. Thus he wants to gather some intel behind enemy lines. But he won't do it alone, in addition to some regular clones and Captain Cody the "Bad Batch", a very special team of very special clones, will join them. Click through for the spoiler review of "The Bad Batch"!
-Click HERE to return to the home page-