Tag Archives:
Taika Waititi
The rumors were true after all! A new Star Wars movie and a new Disney+ series were announced today! Click through for more!
The Hollywood Reporter broke the exclusive news yesterday. According to their sources Disney is trying to get Taika Waititi to develop a Star Wars movie. Taika voiced IG-11 on The Mandalorian and also directed the season finale. So he's no stranger to Star Wars. The question is if Taika would be a good fit for Star Wars though when he's also tasked with writing the script. Taika Waititi is known for such movies like JoJo Rabbit (he's nominated for two Academy Awards for that), Thor Ragnarok and What We Do In The Shadows. His movies are quirky, have lots of comedy and the question is if his particular style of filmmaking would be good for Star Wars. Would you like a Star Wars movie in the style of Thor Ragnarok? I enjoyed that movie, but I am not sure its idiosyncratic style would make for a Star Wars movie all fans accept. The next question is if Taika has the time, since he's a very busy man these days. Leave your thoughts in the comments!
The Rise of Skywalker was nominated for three Academy Awards! Click through for all the details!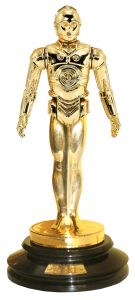 Entertainment Weekly keeps covering the upcoming Mandalorian series on Disney+ with new photos and quotes by cast and crew. The latest photo shows the Mandalorian, a woman you saw in the trailer, when she held a child – her name is Omera – and Cara Dune, as they seem to enjoy a lovely and calm evening. Click through for some more info!
Director Taika Waititi (Thor 3, What We Do In The Shadows) talked about working on The Mandalorian during a panel for the upcoming tv show What We Do In The Shadows, based on his movie from a few years ago. Not that much was revealed but he gave some insight into how it's like to work for Star Wars. He also hinted at a potentially big scene in the upcoming series. Click through for more details!
-Click HERE to return to the home page-