Tag Archives:
Star Wars: Battlefront
This post contains affiliate links. At no additional cost to you, JTA may receive a commission if you click and make a purchase.
If you were unable to grab him the first time around at Walmart or you couldn't find one for pick up at your local Gamestop, the Battlefront Imperial Shock Trooper is now In Stock for shipping and marked down 20% along with ALL other Star Wars collectibles. Grab him while you can!
Retailer Robot Kingdom has updated their site product page for the Inferno Squadron TIE Pilot which shows a new January 1, 2018 release date (instead of the November 2017 date shown on GamesStop's product page. (Anything can change of course.) It's more than likely that this just means "sometime in first quarter 2018" and there is something much bigger coming then anyhow.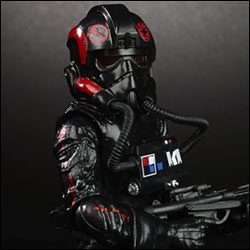 -Click HERE to return to the home page-