Tag Archives:
Star Destroyer Commander
Welcome to another entry in our The Vintage Collection: The Ninety Six column. Hasbro recently committed to collectors that they will be "focusing" on characters in The Vintage Collection that fall under "The Ninety Six" banner. If you're new to this, it means that for every classic Kenner figure, there needs a modern counterpart. Between 2020 and 2021, Hasbro's made an admirable effort by focusing on these characters. But there is more work to be done, and we'll figure out where we are step by step.
We're right in alignment with Hasbro in our vintage Kenner database. There are 21 figures under the STAR WARS banner, 29 figures under THE EMPIRE STRIKES BACK banner, 31 figures under the RETURN OF THE JEDI banner, and 15 figures under THE POWER OF THE FORCE banner. (Sy Snootles, Max Rebo, Droopy McCool, and Blue Snaggletooth bring the number to an even 100 figures.)
Read our assessment, and then be sure to add your thoughts to the comments. Let us know if you agree or disagree. If you're a customizer, show us your custom definitive figure in the comments as well! Who knows? It might give Hasbro some ideas.
In 1984, new packaging for Star Wars figures was introduced for the European market. A cost containment initiative, the new packaging sported three languages of the Return Of The Jedi logo for a "one size fits all" approach. Although a "three-logo" design was created for The Power Of The Force line (as evidenced on some 'boxed' toys), it wasn't carried over to the basic figure line's card design. They continued to use the three Return Of The Jedi logos instead. Although the word "Trilogo" is found nowhere on the packaging, the term is universally adopted by all Star Wars collectors to describe this line of figures.
Today we revisit the Death Squad Commander, which was known in the Trilogo collection as Star Destroyer Commander (Commandant de L'Etoile Noire). This figure, like the Jawa, is one of the rarest figures in the Trilogo line. A common misnomer, many believe that this figure wasn't released in the Trilogo line, but this isn't true. The figure only came mis-carded on the AT-ST Driver packaging. Interestingly, card art was designed for Star Destroyer Commander (Commandant de L'Etoile Noire) figure but was never released. We created a mock-up utilizing the original card art created, and then also added the AT-ST Driver packaging to show how the figure arrived at retail The review's Collector Notes are updated with this information. See the full card art and additional notes by revisiting 1978's STAR WARS Death Squad Commander figure HERE.
Death Squad Commander • Star Wars • 1978
We've finally reached the final figure from the Star Wars 12-Back series! Let's check out the Death Squad Commander. He is a character that isn't too screen-accurate, but not too many of us cared. He also experienced a significant name change before the end of the Kenner line. Check out this classic figure for which we STILL don't have a modern Hasbro counterpart for and hope comes in The Vintage Collection soon! Enter our Research Droids Reviews and be sure to add your own experiences to the conversation! Reminisce your own childhood stories of this figure in our comments. Share your life-changing vintage Kenner adolescent experiences with us!
Let's add the repacks from wave 16 of The Black Series [Phase III] 6-inch line to our Visual Guides, starting with the Death Star Trooper (60), featuring the all-new photorealistic face deco. Click below for a full look at this figure, and make sure to stop by and have a look at our review as well.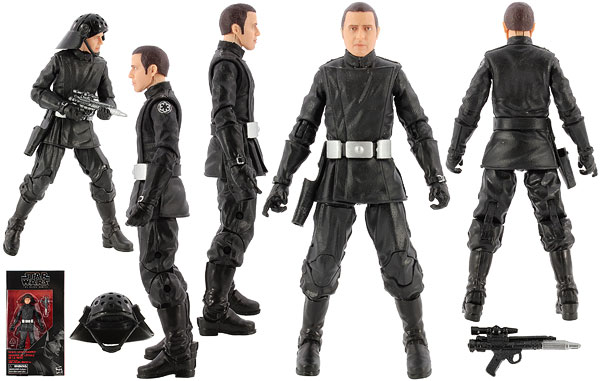 The Black Series [Phase III] Death Star Trooper 6″ figure with enhanced "photorealistic" deco is eerily lifelike. See why this is a must-have figure in our Research Droids Reviews today! Be sure to leave your thoughts in our comments section, vote in the poll or even comment about it on our Facebook page. Click the banner below for the direct link to the review! As always, you can also send your review requests via email if you'd like to see something that we didn't cover yet.

-Click HERE to return to the home page-