Tag Archives:
Sith Jet Trooper
Our friends at StarWarsFiguren.com have posted images from the convention in Germany. So far, it looks like just 6″ and 5″ figures were revealed. Be sure to check out the Boba Fett, Darth Maul, Sith Jet Trooper and Yoda Galaxy Of Adventures figures (if they ever make it to retail).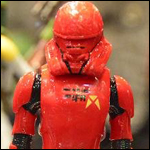 That's a wrap! We hope you enjoyed our pre-Triple Force Friday exclusive look at The Vintage Collection wave 23 figures. Good luck acquiring them all beginning 12 AM tonight! Stay tuned for links! If you missed any of our reviews, click any image below so you can catch up!
Posted in
Research Droids Reviews News and Updates
Tags:

3.75" Super-Articulated, Battle Of Yavin, Hasbro, Kenner, Knight of Ren, Luke Skywalker: X-Wing Pilot, Poe Dameron, Rey, Sith Jet Trooper, Star Wars, Star Wars Episode IV: A New Hope, Star Wars Episode IX: The Rise of Skywalker, The Vintage Collection, Zorii Bliss
We are adding more new The Vintage Collection figures to our Visual Guide database. Next up is the all-new Sith Jet Trooper (VC159). Click below to check out the full Visual Guide. Make sure to also check out our full review for this figure right here.
NEW THE VINTAGE COLLECTION FIGURES! Let's start with the Sith Jet Trooper. It's a new take on the Sith Trooper. Find out more in Research Droids Reviews today! Be sure to leave your thoughts in our comments section, vote in the poll or comment about it on our Facebook page. Click the banner below for the direct link to the review! As always, you can also send your review requests via email if you'd like to see something that we didn't cover yet.
It's leak season. While Disney insists on an embargo things leak left and right. We know of the regular First Order Jet Trooper. Not a leak for a change, the costume was on display at D23. And now the red Sith Trooper variant of the Jet Trooper has leaked. It's safe to assume that we will get a figure of him eventually. The Sith Jet Trooper was revealed on a t-shirt, actually, but the print is pretty detailed and also provides a first glimpse at the actual jet pack itself! I appears the Sith Jet Trooper, while very similar in design to the regular Jet Trooper, shares some design elements with the regular Sith Trooper, which makes sense. It seems all Sith Trooper variants will feature the grooves on the armor.
Would you add the Sith Jet Trooper to your collection?
Click on the image below for the full version!
Source: DMN-Store
-Click HERE to return to the home page-