Tag Archives:
Season 4 Episode 5: Mercy Mission
Up next for our The Vintage Collection Visual Guide updates is Clone Commander Wolffe (VC168). Click below to check out the complete Visual Guide. You can also read all about this figure in our full review right here.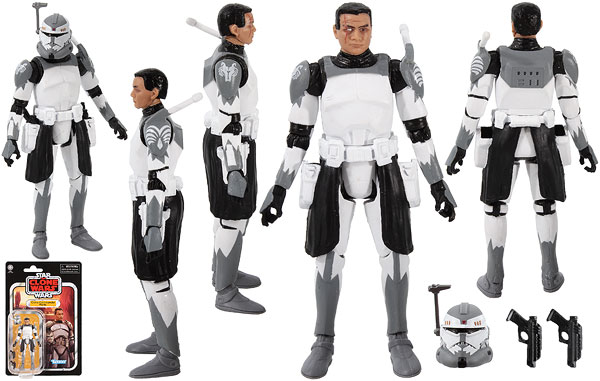 Collectors of The Vintage Collection line get to add another character from The Clone Wars into their collections! Are you ready for the phase II version of Clone Commander Wolffe? It's an admirable effort with some surprising new tooling. Will you add this figure to your Plo Koon focus? (more….)
Thank you for reading Research Droids Reviews: Season 12!
Let's check out the Clone Commander Wolffe 6″ figure which is a shared exclusive at three retailers! See it in our Research Droids Reviews today! Be sure to leave your thoughts in our comments section, vote in the poll or even comment about it on our Facebook page. Click the banner below for the direct link to the review! As always, you can also send your review requests via email if you'd like to see something that we didn't cover yet.
We also have a sneak peek look for you at the Barnes & Noble/Disney Store/GameStop shared exclusive Clone Commander Wolffe figure from The Black Series [Phase III] 6″ line. Fans of The Clone Wars are inevitably going to fall in love with this figure, but I think it misses a few small marks. The approach of this figure feels like Hasbro was going for a hybrid appearance of his phase I and phase II armor (although clearly intended to be phase II) as reusing parts can sometimes muddy these defining waters. The all-new portrait is fantastic. His gross milky eye is perfection, as is the scar above and below it. The Wolfpack deco is beautiful and cleanly applied on his armor, and the articulation system is nothing out of the ordinary. The review is coming soon, but you can check out the full gallery and other things now!
-Click HERE to return to the home page-