Tag Archives:
R5-232
Disney comes through with droids from Solo: A Star Wars Story. Click below to check out our Visual Guide update featuring R2-F1P, R5-232, R2-S8, and R5-PHT. You can also read our full review of this set right here in our Research Droids Reviews database.
The R2-F1P/R5-232/R2-S8/R5-PHT Droid Factory set is incredible. And the droids inside of this set have all received updates making them more accurate to screen than ever before. See why you don't want to miss out on this set in our Research Droids Reviews today! Be sure to leave your thoughts in our comments section, vote in the poll or even comment about it on our Facebook page. Click the banner below for the direct link to the review! As always, you can also send your review requests via email if you'd like to see something that we didn't cover yet.
We have a sneak peek look for you tonight of the R2-F1P/R5-232/R2-S8/R5-PHT Solo: A Star Wars Story Droid Factory four-pack. It appears that we might see new Droid Factory droid parts in the future as evidenced by the new parts included here, namely the restraining bolts. R2-S8 is the standout astromech droid of the set (who looks a lot like R2-MK by the way) and has some of the best paint operations we have seen in this line to date. Still, all droids are still missing foot wires which is an ongoing setback. Check out this great set early in our RDRs by clicking the image below.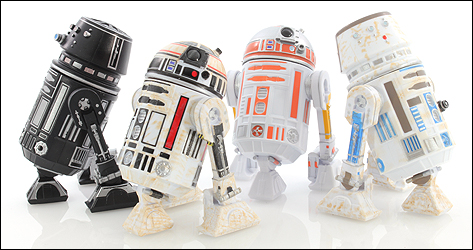 -Click HERE to return to the home page-