Shop Disney released a "greatest hits" package of their past Holiday astromech droids in their R2-H15/R2-H16/R3-H17/R4-H18 four-pack. (more….)
Thank you for reading Research Droids Reviews: Season 13!
Posted in
Research Droids Reviews: Season 13
Tags:

3.75-inch Super-Articulated, Build A Droid, Disney, Droid Factory, R2 Unit, R2-H15, R2-H15/R2-H16/R3-H17/R4-H18, R2-H16, R2-series Astromech Droid, R3 Unit, R3-H17, R3-series Astromech Droid, R4 Unit, R4-H18, R4-series Astromech Droid, Shop Disney Exclusive
Enjoy a Visual Guide Merry Christmas with the Disney Droid Factory R3-H17!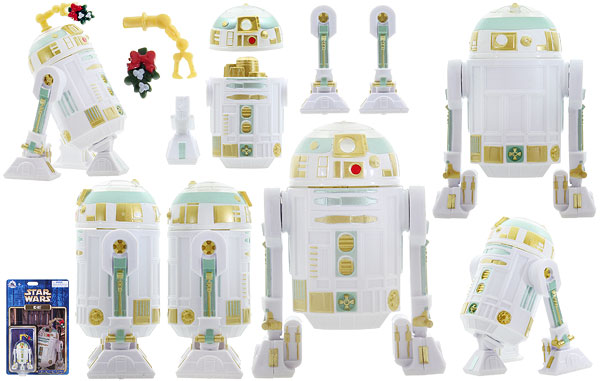 Merry Christmas! Let's look at Disney Parks' R3-H17 Droid Factory astromech droid. It is the focus of our Research Droids Reviews today! Be sure to leave your thoughts in our comments section, vote in the poll or even comment about it on our Facebook page. Click the banner below for the direct link to the review! As always, you can also send your review requests via email if you'd like to see something that we didn't cover yet.
With special thanks to Ricardo from The Astromech Collection for forwarding us this image, it looks like the holiday edition R3-H17 should be imminent at Disney Parks. Check out the carded image of this cool droid!