Tag Archives:
Patrol Dewback
This post contains affiliate links. At no additional cost to you, JTA may receive a commission if you click and make a purchase.
Starting at 2 PM Eastern you can pick up The Black Series Dewback and Sandtrooper set for $14.99. Click here for the order page! You can find the daily doorbuster each day right here.
Update: Sold out!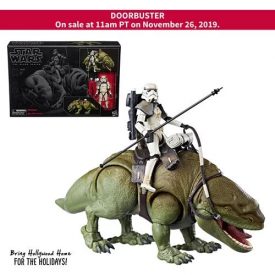 Everyone knows how magnificently Hasbro's The Black Series [Phase III] 6″ Dewback turned out. While we have received acceptable releases in the past, a modern version utilizing the approach and perhaps the digital files of the 6″ version would work wonderfully in The Vintage Collection. Don't you think? We need this beast updated, and it would be a perfect time to do so in The Vintage Collection. Let us know your thoughts about this in the comments!
-Click HERE to return to the home page-